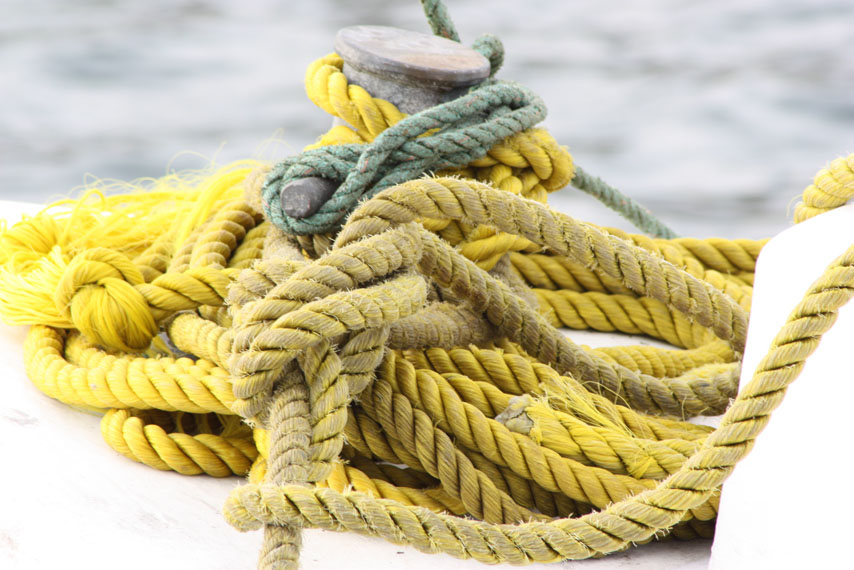 February 11, 2013 | Posted in Answer, Event Tips, Events, Front Page News, Information | By Treasure Hunt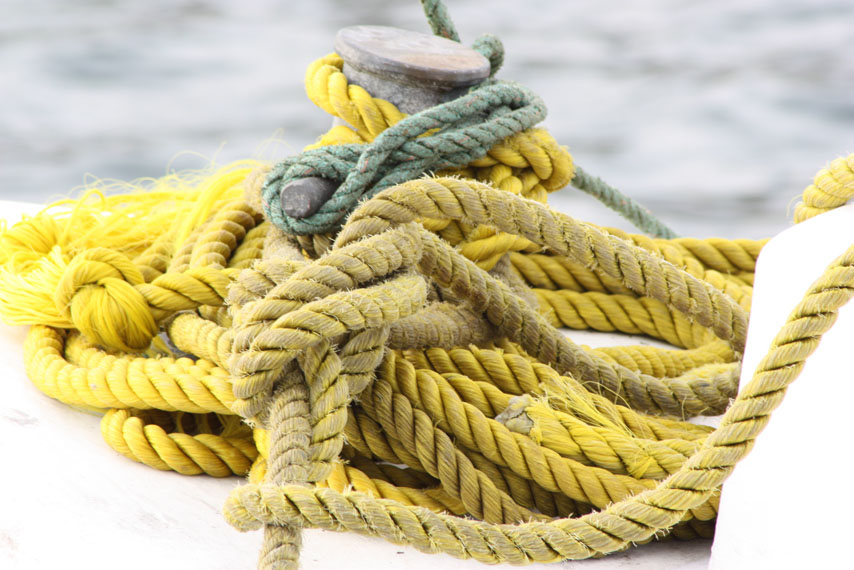 If you are stuck on a puzzle, stop and take a look at it from another angle. Put yourself in the mind of the person setting the question. The first thing this person had was the answer, then they constructed the puzzle to arrive at that. If you know the puzzle maker, consider their style and any similar combinations of questions and answers they may have come up with previously. Also consider where they would have sourced the answer from – do their other answers suggest that they can see the object they are making questions about.
The person who has set the problem obviously wants you to solve it, but they want to stretch you to the limits of your ability so you get the maximum personal reward by solving it. The secret to the answer will always be in the question.
Read it very carefully and slowly, not getting hung up on one particular detail. When you have the correct answer, it will feel like it makes perfect sense.
Example
Let's take Question 3 of the puzzles from the 25 Riddle Puzzles For You To Solve:
What am I? I look sick. I won't cut like a knife but have similar qualities. I hang around in big groups. If you cut my head off – I look great.
Let's break it down.
What am I: This means it is a Thing.
I look sick: Think of what symptoms you have if you visually appear to be ill.
I won't cut like a knife but have similar qualities: It is something that isn't sharp, but may appear so.
I hang around in big groups: When you see this Thing, it will be amongst many other similar Things.
If you cut my head off – I look great: The Thing looks better with the top taken off.
Starting with 5, we can discard anything that doesn't look better with its physical head on i.e. anything animal. As we know from 1 that this is a Thing, then we can discard conceptual objects or words. From 2 the visible symptoms of sickness are that it is something like, sweaty, pale or green. 3 tells us that it contains a knife's qualities like a blade.
The (1) object is (2) green, with a (3) blade, seen in big (4) clumps that can be trimmed (5).
The answer is: GRASS  (drag cursor across to highlight and see).
If you have a puzzle you can't solve – post it here and we'll see if the reader's of Treasure Hunt Design can solve it.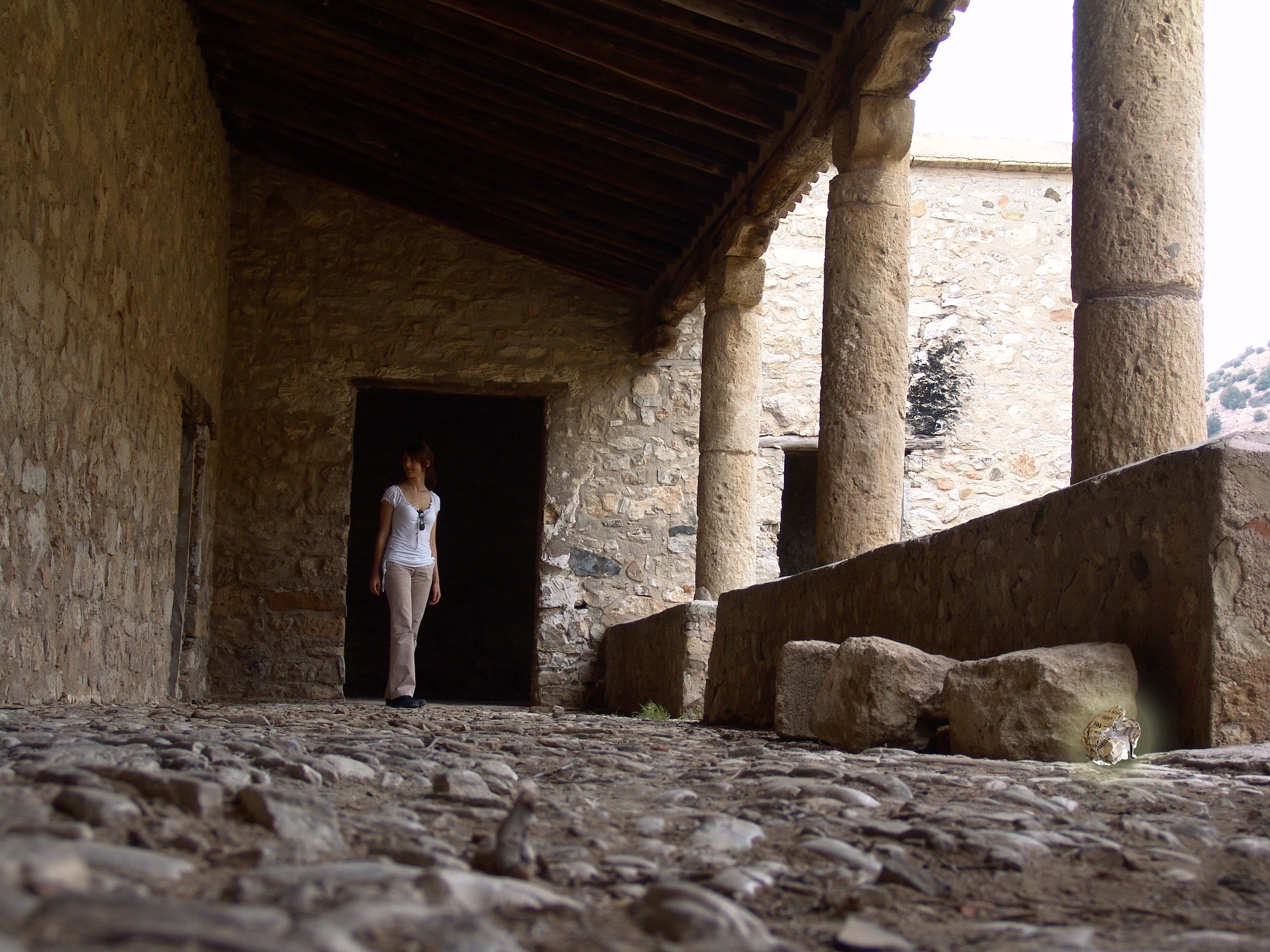 February 4, 2013 | Posted in Event Tips, Front Page News, Information | By Treasure Hunt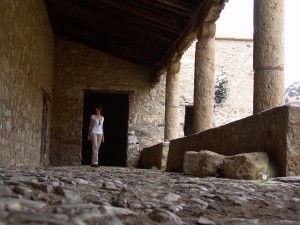 A treasure hunt trail is a simple series of clues, one leading to the next.
The secret to setting one up is by starting where the treasure is, and working backwards.
Hide the treasure.
While you are there, write a clue of how to find the treasure.
Find where you would like the final clue to be and fold the piece of paper up – the unfolding of the unknown is part of the excitement.
Hide it with just a small corner showing.
While you are there, on the next piece of paper, write the clue of how to find that clue.
Find where you would like the preceding clue to be and repeat the process until you get to where you would like it all to start.
Any more than ten clues could get a bit tedious so try not to get too carried away.
Set your clues at a level that will challenge the people taking part but that are all solvable with a little time i.e. counting based problems have one definitive answer but cryptic puzzles can be impossible if you don't have a clue. With a treasure trail, if you get stuck on one clue then that is the end of the adventure.
Using this method you can only have one person or one group take part and it only has one use – but it is a great method for something like a marriage proposal, children's parties, or Easter egg hunts.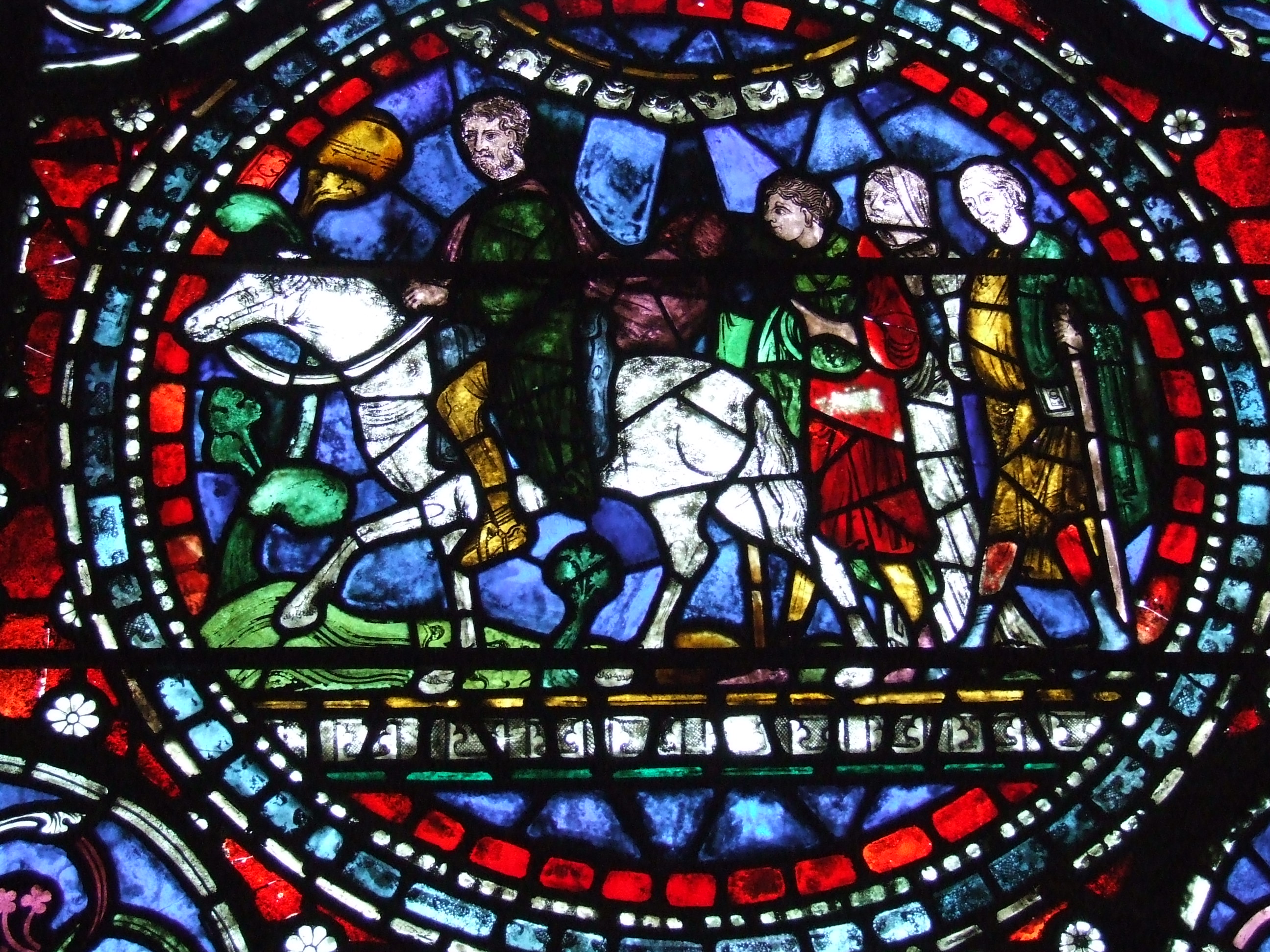 January 28, 2013 | Posted in Event Tips, Front Page News, Information, Research | By Treasure Hunt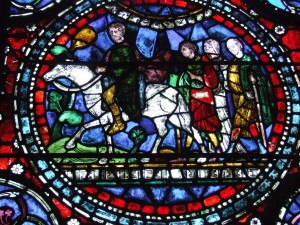 To make a theme for a treasure hunt, there is no better source of tales than the ones that already exist nearby.
Perhaps in the past there used to be a monastery nearby – it isn't there any more because all their treasure went missing. There is always a mystery, a fascinating story or a captivating twist from the past.
The Missing Wyre Bullet Ammo Train
In the Wyre Forest, during the Second World War, legend has it that somewhere near the ammo factories, deep in the hills, a train packed with arms was hidden in a tunnel and sealed in. This was as a last line of defence and to prevent the ammunition falling into enemy hands in the case of Nazi occupation. Luckily, it was never needed. Unluckily, it was lost and the location was forgotten. The only clue that remained was a map showing the position train nameplates that had parts missing.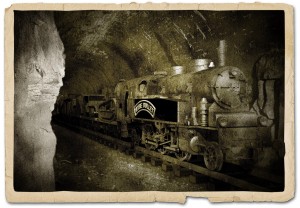 History
It is a great excuse to speak to neighbours and local historians. You can be sure they are a rich source of information. Alternatively use a search engine to research news stories for the area.
Choose a theme, make a map and then see how much it would cost to put a professional treasure hunt together.

January 14, 2013 | Posted in Event Tips, Front Page News, Information | By Treasure Hunt
When designing your product, especially a treasure hunt with a theme, it is very important to the long term value of your brand to stick to your own design guidelines. Larger organisations have brand guideline documents outlining the rules of using their brand. Making a poster which deviates from your brand, even just this once, is the beginning of the end for your look as you know it. It opens up the range of what is acceptable for future activity, in a bad way.  There is a good reason why Treasure Hunt Design is used by such brands as National Trust. Their designs are respected and incorporated into their treasure hunts.
Make some rules for yourself, stick to them, and the longer you do, the stronger your brand will be.
You might find this beautiful book interesting and even useful:
Just My Type
A book about fonts.
Just My Type is a book of stories. About how Helvetica and Comic Sans took over the world. About why Barack Obama opted for Gotham, while Amy Winehouse found her soul in 30s Art Deco. About the great originators of type, from Baskerville to Zapf, or people like Neville Brody who threw out the rulebook, or Margaret Calvert, who invented the motorway signs that are used from Watford Gap to Abu Dhabi. About the pivotal moment when fonts left the world of Letraset and were loaded onto computers … and typefaces became something we realised we all have an opinion about.
Available from www.amazon.co.uk.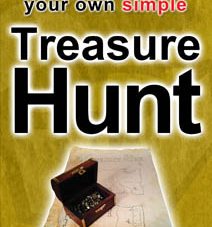 November 23, 2011 | Posted in Event Tips, Events, General News, Information | By Treasure Hunt
[wp_cart_display_product name="Make Your Own Treasure Hunt PDF" price="2.99″ thumbnail="https://treasurehuntdesign.com/wp-content/uploads/2016/07/Buy-Simple-Treasure-Hunt-Guide.jpg" description="A simple guide to making a treasure hunt around your home. Includes making a great old looking treasure map." file_url="https://treasurehuntdesign.com/wp-content/uploads/2015/12/How-To-Make-Your-Own-Simple-Treasure-Hunt-THD.pdf"]
[show_wp_shopping_cart]

This is a guide to creating a great treasure hunt for your home, which can be adapted for your town, park or even your holiday.
You'll learn how to create a number of different clues, pick a theme as well as how to make an authentic looking treasure map.
All you'll need is a couple of household objects, some willing pirates and of course – some TREASURE!
The brilliant treasure hunt that you create is limited only by your own imagination, kids' party, hen do or team building event.
Order now in Kindle format on Amazon.
Order now in PDF format on Smashwords.
The book includes a pirate dictionary, ideas for other clues and alternative themes for only $2.99.
If you would like a professionally organised large treasure hunt then please get in touch with Treasure Hunt Design.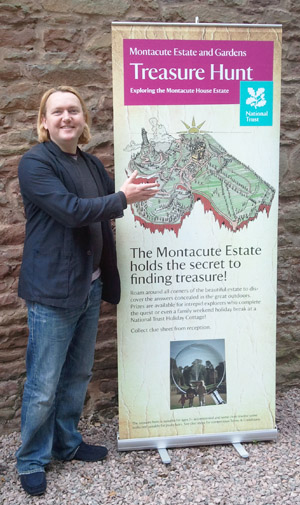 June 6, 2011 | Posted in Event Tips, Events, Information | By Treasure Hunt
In order to secure a successful treasure hunt, a key part of the publicity has to be the signage leading up to the event.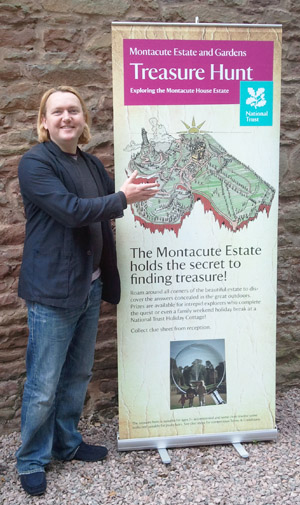 The first and easiest is to have a pop-up banner in reception for all your existing clients to get the message.
The beauty of a pop-up banner is that they are quick, convenient and can convey a great deal of information fitting in with your brand.
The next is to arrange to have road signage leading to the event.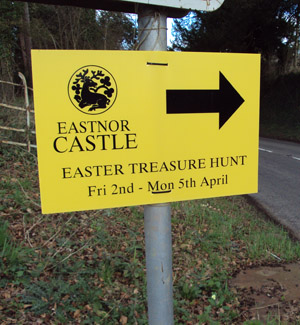 Remember to keep the details to an absolute minimum as you only have a fraction of a second to get the message to the motorist.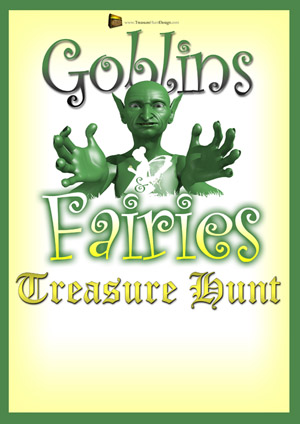 Finally posters and leaflets promoting the treasure hunt event are a real boost. Make sure they are eye catching and appealing to your target audience, positioned where they are likely to be lingering.
Your brand is really important so make sure that you combine any theme you choose with the overall guidelines of your property/company (or use people that can (like Treasure Hunt Design for example)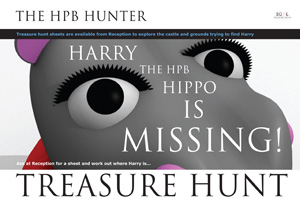 If you would like a treasure hunt event, or professional signage for an event designed and produced then the very first thing you need to do is get in touch!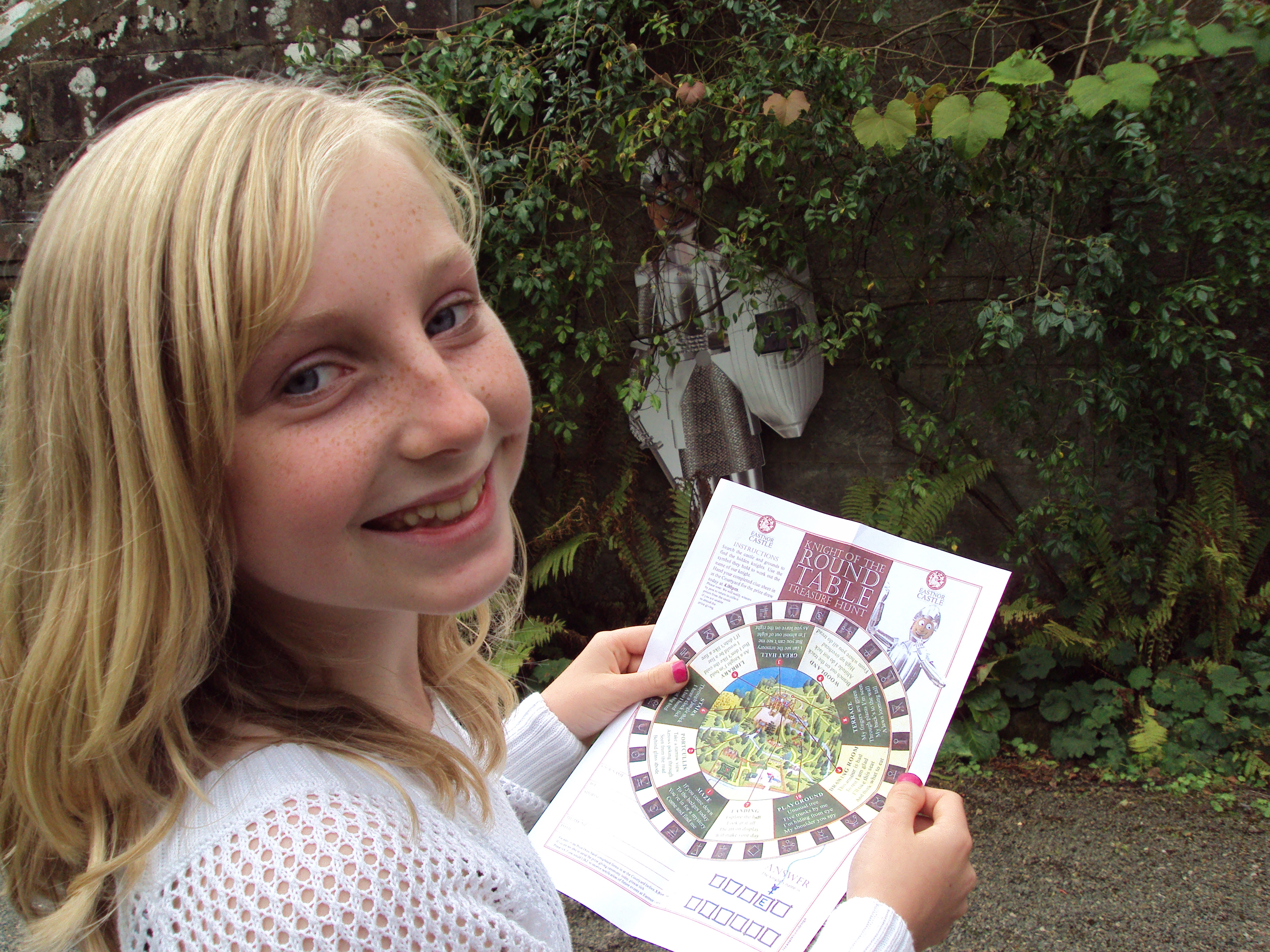 May 16, 2011 | Posted in Event Tips, Events, Information | By Treasure Hunt
Pre-Event Planning
Web page
The first place that people look for what's on will be Google. Get a dedicated page on your website featuring plenty of all the key words that your target audience will be looking for i.e. family, berkshire, bank holiday. Google needs about 6 weeks to register your entry for it to show in  listings.
What's on guides
Search for local what's on guides online. Almost all of them are free and desperate for more entries. Compile the details beforehand so you can easily copy and paste them quickly into the guides. The fields you will most likely be asked for: Event Name, Event Description, Venue, Opening Times, Prices, Contact Information, County, Start Date, End Date, Website, Ticketing URL, Contact Email.
Local newspapers
The local rags love treasure hunts, so prepare a Press Release. You need a story, so if you were using Treasure Hunt Design for example, you could say "We saw an opportunity and called in the treasure hunt experts from Channel 4's Country House Rescue to see what they could do for us…" To find the local news people, Google something like "cumbria local media contacts". If you can't find the personal email address of the relevant person then try news@ or newsdesk@.
Road signage
If you can get a sign in a prominent position a fews weeks beforehand locally then it is a great and cheap way to plant the idea in the minds of passers by. To obtain consent to put up an advertisement or sign you may need to apply to the planning authority for the area where it will be displayed. Click here to read the rules. Most planning authorities provide a standard application form, which you can obtain from the local Council's Planning Department. Electronic standard application forms are available from the Planning Portal via the following link: www.planningportal.gov.uk. In addition to the completed application form, illustrative plans and drawings are required; and you will have to pay the appropriate charge for the advertisement application. The tariff of charges is related to the type of advertisement involved in the application, and the amounts are reviewed annually. Information about current charges is given on the application form, or can be obtained from the Planning Department's area office.
Local Tourist Associations
In all areas there are organisations set up to promote local tourism. There might be a nominal fee to join, but you would benefit from piggy-backing a large existing distribution network to get the word out about your event.
Stationery
Leaflets and posters certainly help to promote the event. Bear in mind that the majority of dispensers in the UK take 1/3rd A4, and if you can squeeze a corner of the local shop window and noticeboard the poster would ideally be A4.
Local clubs/schools
Target places that will be interested in your event. i.e. if it is going to be an Orienteering Treasure Hunt let the local scout/guides groups, orienteering clubs and local schools know.
Event Planning
The very first thing to do is estimate how many people you think will attend your treasure hunt event. The rest of your decisions depend on this figure.
Clue Sheets
Get the clue sheets printed, including a space to collect the visitor's information. Using a professional printer normally works out cheaper and less trouble than trying to print it yourself on a desktop printer.
Prizes
Two things to consider. If you are holding an event involving children, they all appreciate a little gift on completion. A grand prize that you yearn to possess would be the ultimate thing. If you are a venue, then look at the services that you could offer without any major financial outlay i.e. exclusive use for an evening, pony trekking etc.
Staff
A rough guide is one person per one hundred people, with a minimum of three to account for loo breaks and surges.
Parking
Firstly look at the space you've got available. Base your spaces on approximately three people per vehicle. Allow at least 3m width by 5m per car to calculate. Make sure you have someone pointing people in the right direction.
Catering
The simplest thing to do is to get a commission based outside contractor to pay you to attend your event. If you tell them the numbers, they can give you an expected return. If you advertise that there will be food there, the take up will be much higher.
Activities
For a family-based treasure hunt think family fun day/school fete: bouncy castles, pony rides, cake stalls, beat the goalie, tombola, coconut shy, darts, egg and spoon race, grand prize draw, guess the name/number, jumble sale, obstacle course, refreshments, skittles, car wash.
Toilet facilities
The minimum for 1000 people (500 male and 500 female) for an event less than 6 hours is 4 Female WCs, 1 Male WC and 3 Male Urinals. Appropriate sanitary accommodation should be provided for wheelchair users. It is recommended that one WC with wash-hand basin should be provided for every 100 disabled people.
Entertainers
You can have people dressed in the matching theme of the treasure hunt, plus face painting, a clown/magician to entertain any queues and music/musicians.
Post-Event
Data Collection
Collate the information from the returned clue sheets to let the visitors know about your next event.
Press Release Follow Up
Write a press release and send it to the publications that printed your story – it is good for them to have closure on stories.
If you are thinking about holding a treasure hunt event and would like to make sure it goes smoothly and without a hitch then you know where to come: Treasure Hunt Design +44(0)7551 875604.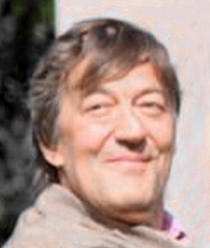 November 3, 2010 | Posted in Event Tips, General News, Information | By Treasure Hunt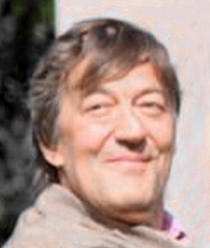 Having adapted the stage version of Me and My Girl in the mid-eighties, Stephen Fry was overwhelmed by its success. When he received a call from Stephen Sondheim, the hugely successful American composer and lyricist, responsible for hits including West Side Story and A Little Night Music, he was tremendously excited at the thought of working with such a great musical talent.
Sondheim asked after Fry's fax machine, which at that time was something of a novelty. It turned out that the composer wanted Fry to be part of a Treasure Hunt that he was running in America, persuading Mr Fry to religiously spend the whole of his Saturday evening next to his newfangled machine in the UK sending back replies to the participants on the other side of the pond.
Stephen Fry is still waiting for the elusive commission to materialise.
His book elaborating on this story and many others, The Fry Chronicles, is available to buy now…
If you are looking for a rich variety of clues in a treasure hunt, then give us a call www.treasurehuntdesign.com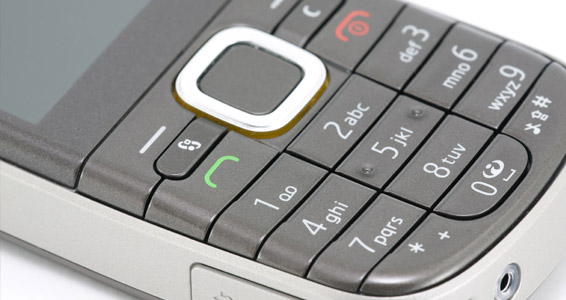 October 25, 2010 | Posted in Event Tips, Information | By Treasure Hunt
You can turn anything into a puzzle. Take a look around yourself now. There are everyday objects which can hold the secret to an answer that you want someone to get. Here are some simple examples: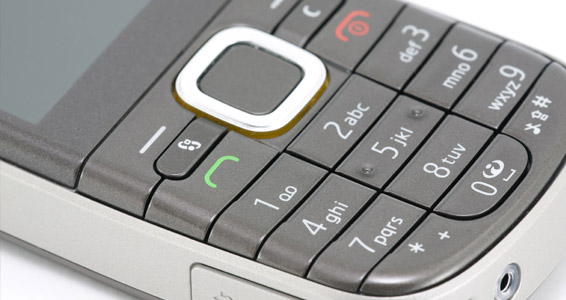 Letters on your phone pad give you numbers
The keys on your computer keyboard have other keys around them – an instant and easy cipher
The direction doors open – try to get somewhere by only opening doors going away from you
Take a letter you've received and ever so slightly mark up a series of letters that make up a question
The TV schedule holds some programmes which do not change on a daily basis so you can base a puzzle on that
Walk through life seeing everything as a potential puzzle to be solved, every place has as a hidden challenge and every sentence has a hidden message. Fun and games can be created in almost any situation. A mild word of warning though: if you do start to see hidden messages that people have left for you in a series of incredibly random circumstances then you may be being slightly paranoid!
Next time you find yourself staring into space daydreaming, make up a little game. It will make the world a better place.
If you don't have time to stare into space, but you need a game creating – come to the expert daydreamers www.treasurehuntdesign.com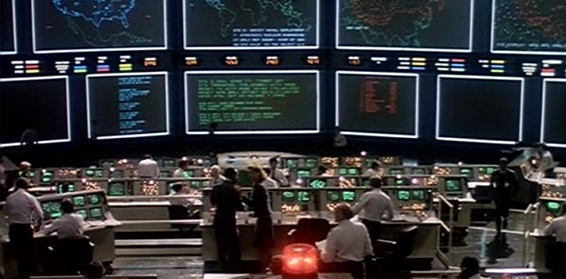 October 21, 2010 | Posted in Event Tips, Information, Research | By Treasure Hunt
…but you can't put your finger on it.
That might be because you've stumbled across an Alternate Reality Game.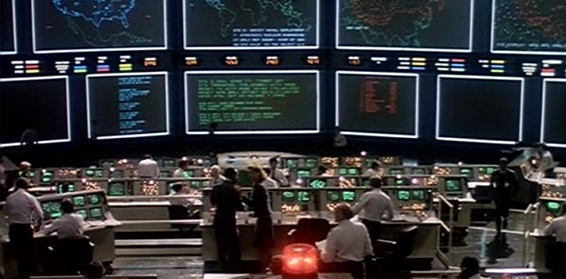 This is an immersive real life (transmedia) game controlled by a game designer featuring real characters, a multitude of platforms i.e. computers, texts, conferences, newspaper ads.
Potential players will stumble across an obscure name on a movie poster, solve a puzzle or click on a "Rabbithole" which then opens up the start of the adventure.
A series of unanswered questions and quests will then become apparent, and the game is on…
Trust no-one. Believe nothing unless you see it first hand and even then, double check.
You could be the star of the show without even knowing it.
In 2001 Microsoft's Jordan Weisman and Elan Lee created a series of computer games based on AI: Artificial Intelligence. From this they came up with a murder mystery across many mediums, telephone/email/fax/adverts. It was an incredible success and globally involved over three million players. There have been other ARG's for TV shows such as Heroes, Spooks, Dexter and Lost.
If you are looking for a commercial Alternate Reality Game – then make the call – it will get people talking www.treasurehuntdesign.com.