This is a FREE guide to creating a great treasure hunt for your home, which can be adapted for your town, park or even your holiday.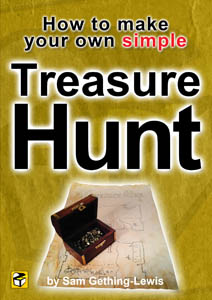 You'll learn how to create a number of different clues, pick a theme as well as how to make an authentic looking treasure map.
All you'll need is a couple of household objects, some willing pirates and of course – some TREASURE!
The brilliant treasure hunt that you create is limited only by your own imagination, kids' party, hen do or team building event.
The book includes a pirate dictionary, ideas for other clues and alternative themes for FREE.
If you would like a professionally organised large treasure hunt then please get in touch with Treasure Hunt Design.