As featured on Radio 4's Woman's Hour, an exhibition of the works of Lizzie Riches inspired by Blickling Hall concealing a Treasure Hunt.
This took place in 2012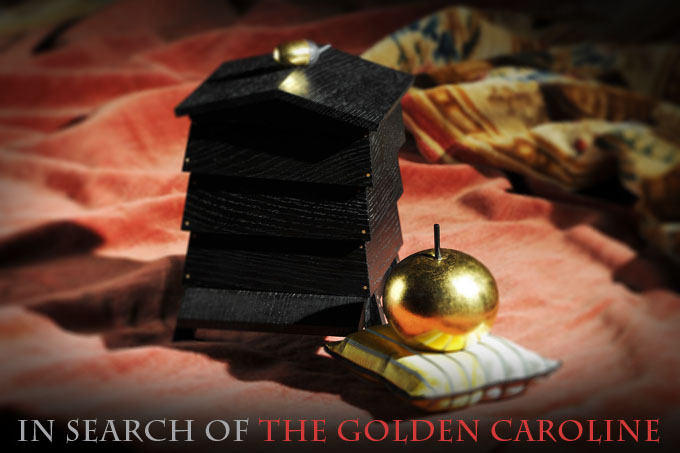 Press release: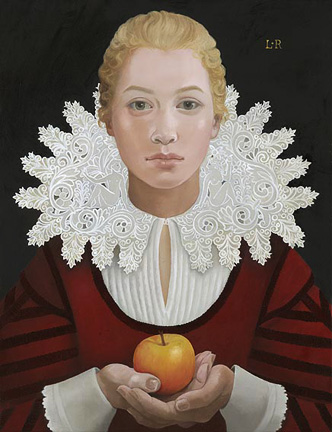 Budding Sherlocks and puzzle fans will be heading to the National Trust's Blickling Hall in Norfolk this summer to take part in an intriguing treasure hunt (1 July – 12 August).
Hidden in sixteen new paintings by artist Lizzie Riches is a series of clever clues that will lead one ultimate winner to a unique prize – a wood-carved, gilded and jewelled apple called 'The Golden Caroline'.
Blickling Hall was the one-time home of Anne Boleyn and has since inspired countless visitors with its romance and history.
The structure of the National Trust dictates that visitors do not pay to take part in the treasure hunt, they just need to be members of the trust or entry fees apply for none members.
Lizzie Riches has woven these tales, together with the collections from the Hall, its gardens and the plants and animals that live there, into the paintings.
The mysterious paintings will be exhibited in Blickling's famous Long Gallery along with 'The Golden Caroline' treasure hunt prize.
The puzzle has been put together by renowned treasure-hunt creator Sam Gething-Lewis who used the paintings as the source for his clues.
The clues will take visitors on a treasure hunt through the house, garden and wider estate to solve the puzzle and move one step closer to winning the prize.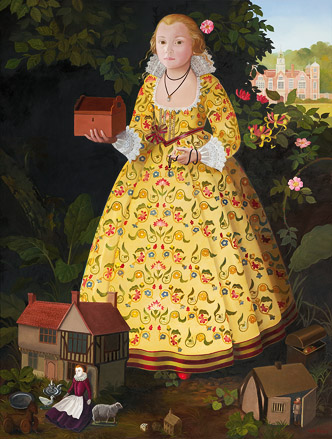 Jan Brookes-Bullen, House Manager at the National Trust's Blickling Hall, said: "We are delighted that Lizzie has drawn on so many of the special elements of Blickling and its estate for her hauntingly beautiful paintings.
"I am sure that our visitors will love seeing the exhibition but I hope too that they will try their luck in Sam's intriguing treasure hunt which these extraordinary paintings have inspired for a prize that is a modern treasure. "
The specially-commissioned prize celebrates a historic apple variety that was thought to be lost and was then found.
'The Golden Caroline' was a new apple in the 1820s grown in the gardens of Blickling Hall and named after Caroline, wife of Lord Suffield. Stocks of the apple slowly dwindled becoming a 'lost variety' until it was re-discovered nearly 150 years later.
The production of the prize has brought together the combined skills of local craftsmen and women, to carve, gild, and add black sapphires as 'pips' to a slice of the apple, nestling on a silk cushion within a miniature carved beehive.
'In Search of the Golden Caroline' Treasure Hunt runs from 1 July – 12 August 2012.
For further information and opening times for Blickling Hall telephone 01263 738030 or visit the National Trust website.
Lizzie Riches' exhibition of paintings will continue to be exhibited at Blickling Hall until the end of August.
The Exhibition and Treasure Hunt are presented by the National Trust in association with The Red Dot Gallery in Holt, Norfolk.
The Golden Caroline apple variety
In the 1820s an apple variety, developed in the gardens of Blickling, was named after mistress of the house, Lord Suffield's wife, Caroline. The apple, described as 'long keeping, flushed pink, crisp and firm fleshed' was propagated and flourished during the following decades but like so many of the older varieties dwindled until deemed lost. It was some 150 years on that a surviving tree was found near Oxburgh.
Lizzie Riches
Lizzie is a Londoner by birth though growing up near Epping Forest gave her an enduring love of the natural world.
Childhood visits to the National Gallery awakened a passion for painting and visiting Audley End at the age of five began a lifelong interest in Elizabethan Portraiture.
A hopeless student at Art School, Lizzie preferred to develop her own style by going back to study the paintings she had loved as a child.
She joined London's Portal Gallery in 1976, exhibiting with them in Chicago, New York and Paris and continuously in London ever since. Portal introduced Lizzie to The Red Dot Gallery, close to her home in Norfolk, in 2011.
During 2011 & 2012, the artist created a collection of paintings which were inspired by the History, Flora and Fauna of Blickling, Norfolk.
Sam Gething-Lewis
Sam has the highly unusual profession of treasure hunt designer. School reports frequently referred to his "day dreaming", an attribute that he has adapted to further his career. Since childhood, his passion has been creating puzzles and games, and this became his occupation at the turn of the century. He is the owner of Treasure Hunt Design, a resource for projects around the world, and has featured on British television shows such as Channel 4's Country House Rescue.
He has inventive genes, as his great grandfather invented the original cat's eyes. His particular talent combines his game creation skills with a strong background in corporate graphic design, used by many castles, country houses and companies across the land. This will certainly be a high quality, fun, challenging and engaging puzzle!
Craftspeople behind the 'Golden Caroline' prize
The Carver – Philip Taylor
Philip is a noted violin and cello maker with an international clientele of professional musicians and music lovers alike. Philip's joy of working with wood and making things of intricate beauty is part inspired and part inherited from his father and grandfather. Philip's father made church organs whilst his grand father was a piano maker. As well as the string instruments Philip also creates highly collectable boxes with a biased to local wood including bog oak, holly, elm and various maples amongst others.
Philip has exhibited his work at Holkham & Snape Maltings. In 2012, as part of The Search for The Golden Caroline, he will create a suite of boxes inspired by Blickling Hall and allied structures, each will employ wood sourced from the Blickling Estate.
The Gilders – Richard Parks and Stacey Geary
Richard and Stacey can be simply described as master framers, their skills are highly regarded and employed, be it a frame to evoke fish scales in bronze, Deco style in sharp silver leaf or the most ornate period carving and gilding. A full restoration service is also extended to include cleaning and relining of period oil paintings, de-foxing of watercolours and valuable documents as well are repair to veneer and other elaborate furnishing finishes. Richard and his team have been retained by private and corporate clients both throughout UK and internationally. Examples from the workshops framing can be found in Holkham Hall, various National Trust properties and Museum collections.
The Jeweller – Oliver Webb
After completing a degree in Goldsmithing, Silversmithing and Jewellery Design at the Kent Institute of Art & Design, Oliver Webb then turned his attentions to learning the art of lapidary, spending two years with a jewellery manufacturing company in Derbyshire. Oliver subsequently returned to Norfolk to join the long established family business Webbs County Jewellers. Under the tuition of his father, Oliver has fine tuned his skills to become one of the finest diamond and precious stone mounters in the county.
Oliver is delighted to offer a complete design and creative service in order that clients can have bespoke pieces commissioned.
Blickling Hall
Blickling Estate is a complete Norfolk estate. Follow four centuries of history, from the Boleyn family to the connection with the Royal Air Force. Enjoy more than 50 acres of beautiful gardens, a walk in the historic park, and three floors of heritage in the Jacobean mansion.
Visit www.nationaltrust.org.uk/blickling.
The Red Dot Gallery
Showing an eclectic mix of original art, sculpture and simply lovely wares all chosen because we really like them – Dancers from the world of ballet, Characters from The Globe, Hares & Dogs, Fabulous Florals and The Odd Man with a Bird on his head!
The Gallery was established in London in 1988 and is now delighted to have been in Holt for twelve years and counting – with an ever-changing mix of work, varied exhibition programme – everything priced and music playing!
With odd and varied opening times, that's just the way it is, or by appointment!
Find us in Lees Yard, tucked away behind Bull Street and next to the Car Park
The Red Dot Gallery, Lyles Court, Lees Yard, Holt, Norfolk
Tel 01263 710287
www.thereddotgallery.com
The National Trust
The National Trust looks after more than 250,000 hectares of countryside, 710 miles of coastline and hundreds of historic places across England, Wales and Northern Ireland. For more information and ideas for great value family days out go to: http://www.nationaltrust.org.uk/