April 16, 2014 | Posted in Events | By Treasure Hunt
EASTER HUNT FOR HEROES AT EASTNOR CASTLE
18TH APRIL 2014 – 21ST APRIL 2014
Easter Hunt for Heroes – We Need You!
2014 marks the centenary anniversary of the First World War and to commemorate the heroes, we invite you to take part in our Hunt for Heroes. Search for the brave bunnies around the castle and grounds, solve the clues and you may be a lucky winner of a giant chocolate egg! Everyone who joins in the fun will receive an Easter treat.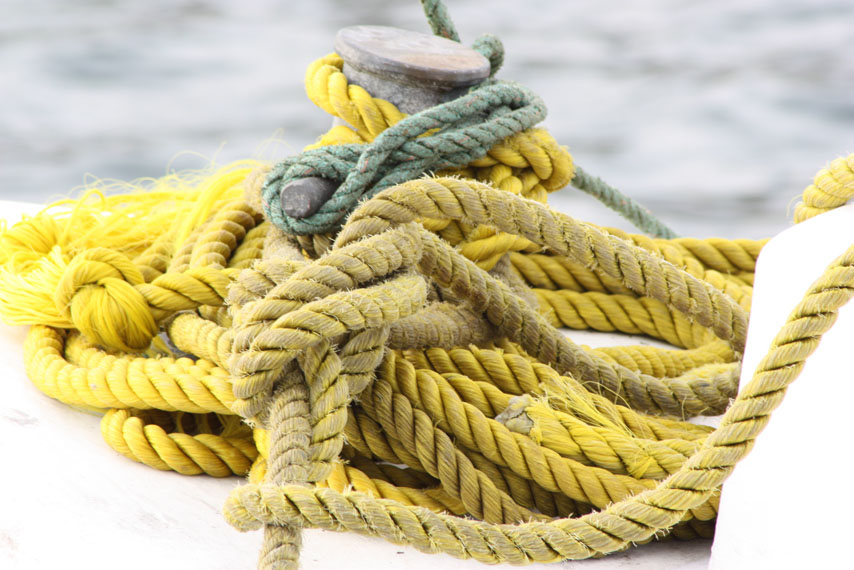 February 11, 2013 | Posted in Answer, Event Tips, Events, Front Page News, Information | By Treasure Hunt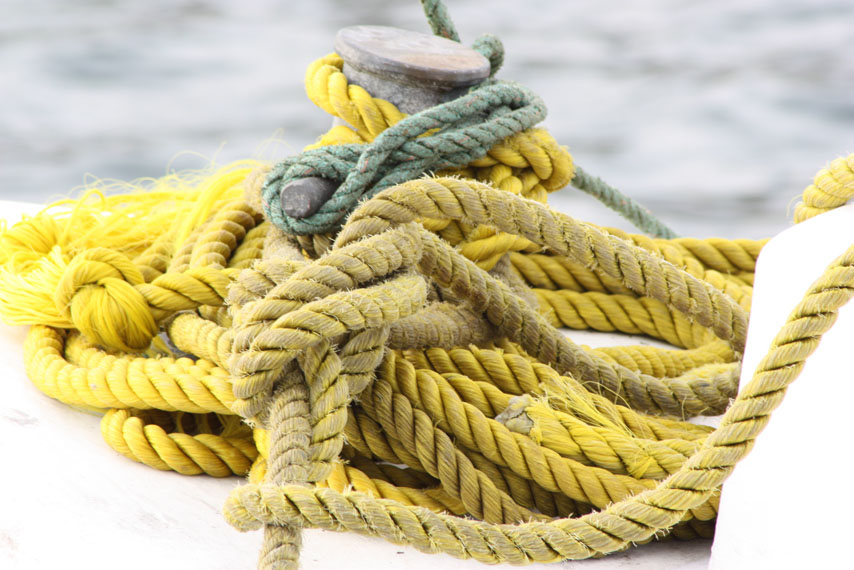 If you are stuck on a puzzle, stop and take a look at it from another angle. Put yourself in the mind of the person setting the question. The first thing this person had was the answer, then they constructed the puzzle to arrive at that. If you know the puzzle maker, consider their style and any similar combinations of questions and answers they may have come up with previously. Also consider where they would have sourced the answer from – do their other answers suggest that they can see the object they are making questions about.
The person who has set the problem obviously wants you to solve it, but they want to stretch you to the limits of your ability so you get the maximum personal reward by solving it. The secret to the answer will always be in the question.
Read it very carefully and slowly, not getting hung up on one particular detail. When you have the correct answer, it will feel like it makes perfect sense.
Example
Let's take Question 3 of the puzzles from the 25 Riddle Puzzles For You To Solve:
What am I? I look sick. I won't cut like a knife but have similar qualities. I hang around in big groups. If you cut my head off – I look great.
Let's break it down.
What am I: This means it is a Thing.
I look sick: Think of what symptoms you have if you visually appear to be ill.
I won't cut like a knife but have similar qualities: It is something that isn't sharp, but may appear so.
I hang around in big groups: When you see this Thing, it will be amongst many other similar Things.
If you cut my head off – I look great: The Thing looks better with the top taken off.
Starting with 5, we can discard anything that doesn't look better with its physical head on i.e. anything animal. As we know from 1 that this is a Thing, then we can discard conceptual objects or words. From 2 the visible symptoms of sickness are that it is something like, sweaty, pale or green. 3 tells us that it contains a knife's qualities like a blade.
The (1) object is (2) green, with a (3) blade, seen in big (4) clumps that can be trimmed (5).
The answer is: GRASS  (drag cursor across to highlight and see).
If you have a puzzle you can't solve – post it here and we'll see if the reader's of Treasure Hunt Design can solve it.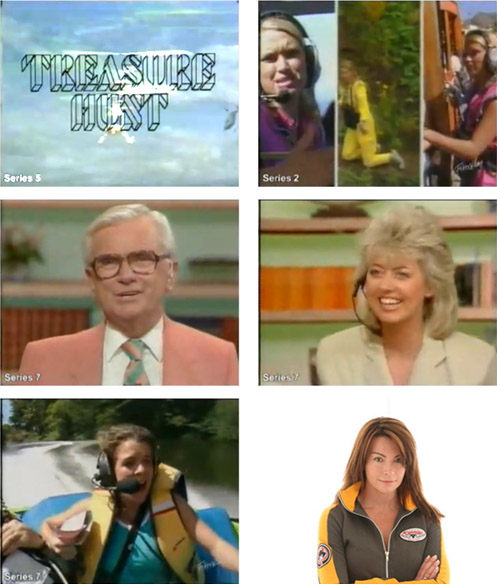 March 13, 2012 | Posted in General News | By Treasure Hunt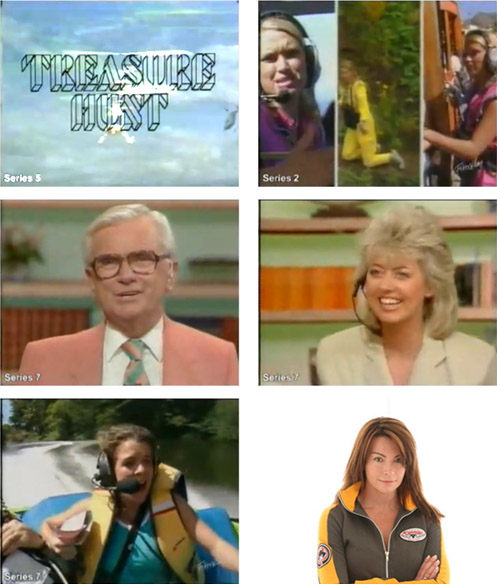 Anneka Rice thinks that we would all benefit from the return of the Channel 4 series, she revealed on Daybreak. Treasure Hunt enjoyed great success, benefiting from the combination of at the time, breaking technology i.e. helicopters and radios, megastars of the day (Anneka Rice, Wincey Willis and Kenneth Baker) and there being nothing else on tv. The latter arguably being a major factor, reflected by the lower ratings achieved when Annabel Croft and Suzi Perry took to the skies as the skyrunner.
We fully support the return of Treasure Hunt!
Clue One: Find a professional treasure hunt creation company.
Answer:…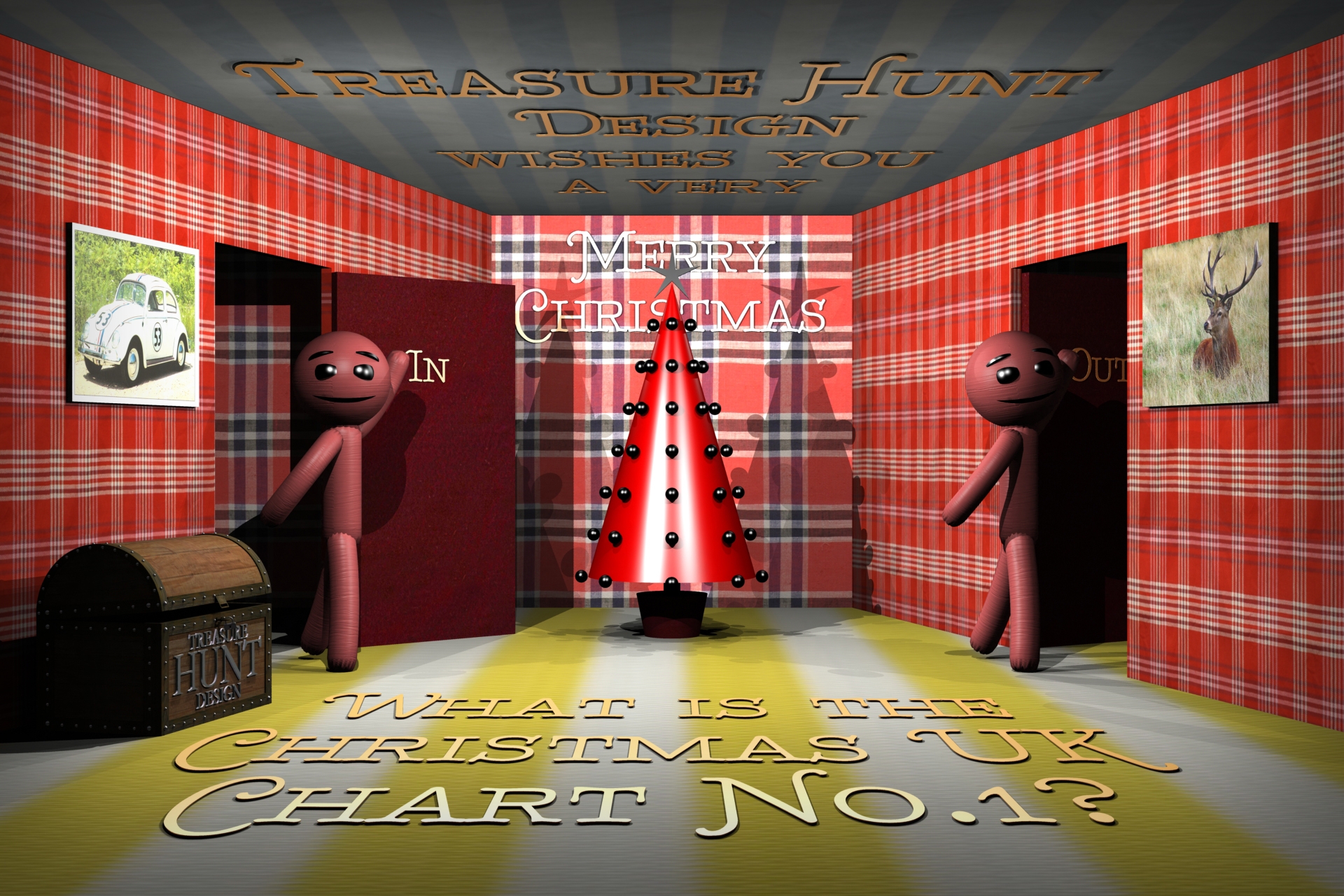 December 7, 2011 | Posted in Competitions | By Treasure Hunt
Click on the image to enlarge.
The draw took take place on 29th December 2011 and the winner was DE from Worcestershire.
Test your answer >>> Enter your answer as the Password all lower case and no commas to see if you have got it right.
Leave a comment on there to prove you could solve it!

November 24, 2011 | Posted in Events, General News | By Treasure Hunt
We are proud to have launched our Treasure Hunt tablet app.
The app is exclusively for use on the Codebreaker 4×4 in conjunction with Land Rover Experience at Eastnor Castle running on the newly released Samsung Galaxy Tab 10.1.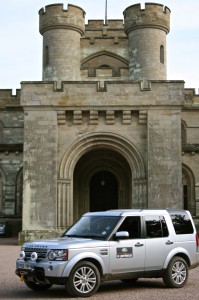 The treasure hunt incorporates some of the most beautiful landscapes in the UK, around the Eastnor Castle estate and including part of the Malvern Hills.
There is no better way of trying to solve some mind bending puzzles than in a top of the range Land Rover, incorporating part of the Land Rover Experience course at their worldwide headquarters, using the ground breaking technology of the Samsung Galaxy Tab 10.1 tablets.
If you would like book this exclusive adventure then please contact Eastnor Castle.
Excellent photography by Meg Hanlon.
We can create a magnificent treasure hunt for you too – get in touch!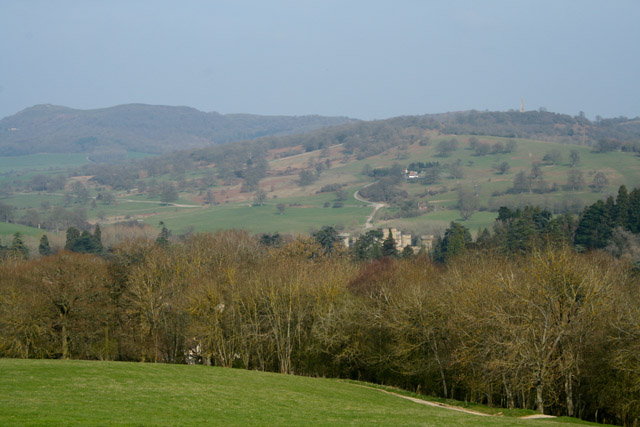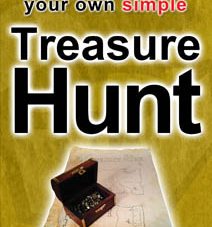 November 23, 2011 | Posted in Event Tips, Events, General News, Information | By Treasure Hunt
[wp_cart_display_product name="Make Your Own Treasure Hunt PDF" price="2.99″ thumbnail="https://treasurehuntdesign.com/wp-content/uploads/2016/07/Buy-Simple-Treasure-Hunt-Guide.jpg" description="A simple guide to making a treasure hunt around your home. Includes making a great old looking treasure map." file_url="https://treasurehuntdesign.com/wp-content/uploads/2015/12/How-To-Make-Your-Own-Simple-Treasure-Hunt-THD.pdf"]
[show_wp_shopping_cart]

This is a guide to creating a great treasure hunt for your home, which can be adapted for your town, park or even your holiday.
You'll learn how to create a number of different clues, pick a theme as well as how to make an authentic looking treasure map.
All you'll need is a couple of household objects, some willing pirates and of course – some TREASURE!
The brilliant treasure hunt that you create is limited only by your own imagination, kids' party, hen do or team building event.
Order now in Kindle format on Amazon.
Order now in PDF format on Smashwords.
The book includes a pirate dictionary, ideas for other clues and alternative themes for only $2.99.
If you would like a professionally organised large treasure hunt then please get in touch with Treasure Hunt Design.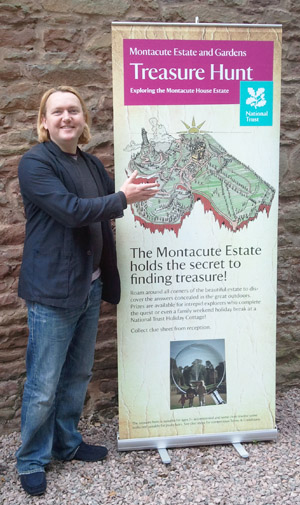 June 6, 2011 | Posted in Event Tips, Events, Information | By Treasure Hunt
In order to secure a successful treasure hunt, a key part of the publicity has to be the signage leading up to the event.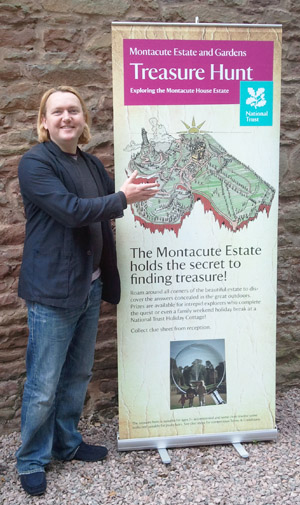 The first and easiest is to have a pop-up banner in reception for all your existing clients to get the message.
The beauty of a pop-up banner is that they are quick, convenient and can convey a great deal of information fitting in with your brand.
The next is to arrange to have road signage leading to the event.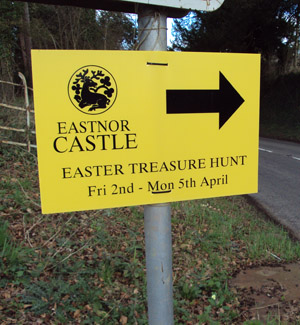 Remember to keep the details to an absolute minimum as you only have a fraction of a second to get the message to the motorist.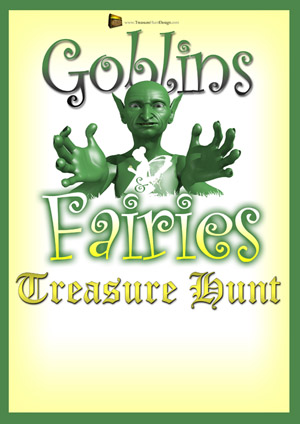 Finally posters and leaflets promoting the treasure hunt event are a real boost. Make sure they are eye catching and appealing to your target audience, positioned where they are likely to be lingering.
Your brand is really important so make sure that you combine any theme you choose with the overall guidelines of your property/company (or use people that can (like Treasure Hunt Design for example)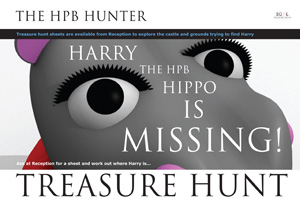 If you would like a treasure hunt event, or professional signage for an event designed and produced then the very first thing you need to do is get in touch!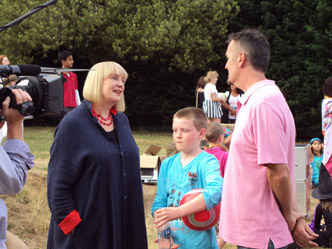 April 11, 2011 | Posted in Events, General News, Press | By Treasure Hunt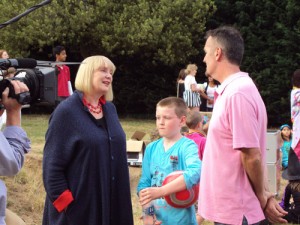 On April 10th 2011 the episode of Country House Rescue that Treasure Hunt Design were featured in appeared on Channel 4. Ruth Watson met with Toby Wilson and Sam Gething-Lewis at High Elms Manor (formerly Garston Manor) in Watford. The show illustrated that treasure hunts can be used by venues as a method of generating money. Thanks to the wonders of internet research – Treasure Hunt Design received their first enquiry during the ad break just minutes following their appearance. If you are short of time and would like to know specifically more about the treasure hunts, find the episode and then fast forward to 14:45 and be sure to watch Ruth presenting the concept to the house owners. If you would like a money making treasure hunt at your venue contact Treasure Hunt Design on 07551 875604.

April 4, 2011 | Posted in Events, General News, Press | By Treasure Hunt

TV Treasure Hunter to the Rescue
Professional treasure hunt expert, Sam Gething-Lewis, has been called in by Ruth Watson from Channel 4's Country House Rescue to help revive the fortunes of an ailing property in Watford.
Garston Manor was bought by Sheila O'Neill for £500,000 as a wreck. On the programme to be shown this week, her daughters plan new money-making schemes, including a UFO academy and a treasure hunt at the Georgian property.
"It was great working with Ruth, she is a real professional," said Sam, who's from Blakeney. "The girls at Garston were a scream, you'll have to watch the episode to find out how it all turns out!"
Sam launched Treasure Hunt Design in 2009 and the business has grown from strength to strength, featuring everything from hi-tech cross-country adventures with the Land Rover Experience, to baffling brainy professors in city centre puzzles.
Treasure Hunt Design has recently completed a successful pilot for families with the National Trust in Montacute House in Somerset, with a view to rolling the model out to properties across the country. More locally, during the last decade Sam and his team have completed almost thirty treasure hunts for one location alone. You can take part in one of the treasure hunts over this Easter weekend at the spectacular Eastnor Castle in Herefordshire, hunting for the hidden giant eggs.
"He is very creative and his work is slightly 'off the wall' which makes it much more interesting and unusual, said Simon Foster, Eastnor Castle's estate manager.
Treasure Hunt Design's latest project in development is a creepy hunt featuring elements from all of our nightmares from clowns and ventriloquist dummies to mannequins and skulls.
If you think that your venue would benefit from having income from a treasure hunt then you can contact Sam on 07551 875604.
Country House Rescue was aired on Sunday 10th April 2011 at 9.00pm on Channel 4.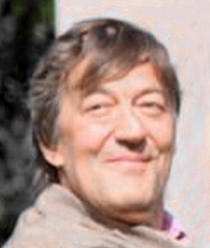 November 3, 2010 | Posted in Event Tips, General News, Information | By Treasure Hunt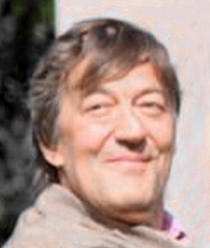 Having adapted the stage version of Me and My Girl in the mid-eighties, Stephen Fry was overwhelmed by its success. When he received a call from Stephen Sondheim, the hugely successful American composer and lyricist, responsible for hits including West Side Story and A Little Night Music, he was tremendously excited at the thought of working with such a great musical talent.
Sondheim asked after Fry's fax machine, which at that time was something of a novelty. It turned out that the composer wanted Fry to be part of a Treasure Hunt that he was running in America, persuading Mr Fry to religiously spend the whole of his Saturday evening next to his newfangled machine in the UK sending back replies to the participants on the other side of the pond.
Stephen Fry is still waiting for the elusive commission to materialise.
His book elaborating on this story and many others, The Fry Chronicles, is available to buy now…
If you are looking for a rich variety of clues in a treasure hunt, then give us a call www.treasurehuntdesign.com