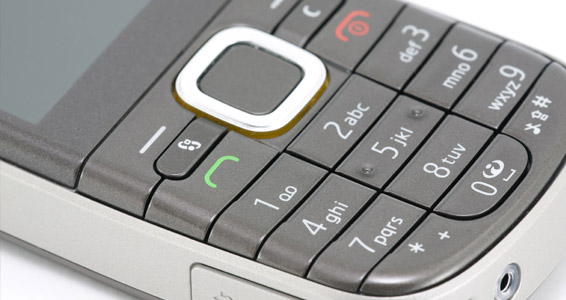 October 25, 2010 | Posted in Event Tips, Information | By Treasure Hunt
You can turn anything into a puzzle. Take a look around yourself now. There are everyday objects which can hold the secret to an answer that you want someone to get. Here are some simple examples: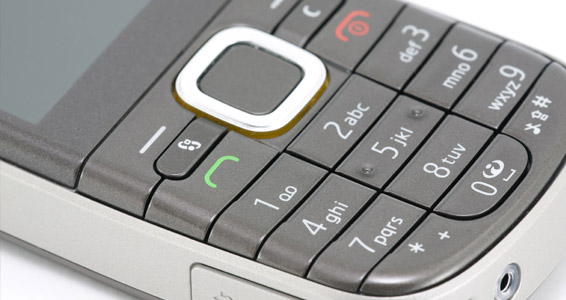 Letters on your phone pad give you numbers
The keys on your computer keyboard have other keys around them – an instant and easy cipher
The direction doors open – try to get somewhere by only opening doors going away from you
Take a letter you've received and ever so slightly mark up a series of letters that make up a question
The TV schedule holds some programmes which do not change on a daily basis so you can base a puzzle on that
Walk through life seeing everything as a potential puzzle to be solved, every place has as a hidden challenge and every sentence has a hidden message. Fun and games can be created in almost any situation. A mild word of warning though: if you do start to see hidden messages that people have left for you in a series of incredibly random circumstances then you may be being slightly paranoid!
Next time you find yourself staring into space daydreaming, make up a little game. It will make the world a better place.
If you don't have time to stare into space, but you need a game creating – come to the expert daydreamers www.treasurehuntdesign.com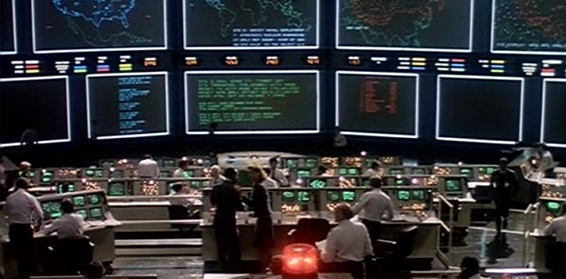 October 21, 2010 | Posted in Event Tips, Information, Research | By Treasure Hunt
…but you can't put your finger on it.
That might be because you've stumbled across an Alternate Reality Game.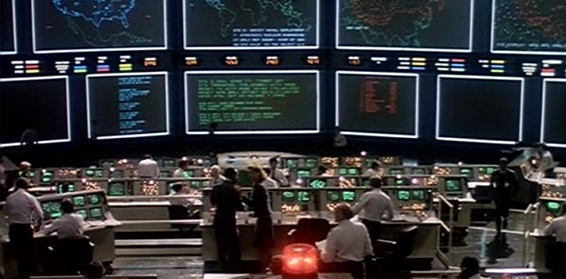 This is an immersive real life (transmedia) game controlled by a game designer featuring real characters, a multitude of platforms i.e. computers, texts, conferences, newspaper ads.
Potential players will stumble across an obscure name on a movie poster, solve a puzzle or click on a "Rabbithole" which then opens up the start of the adventure.
A series of unanswered questions and quests will then become apparent, and the game is on…
Trust no-one. Believe nothing unless you see it first hand and even then, double check.
You could be the star of the show without even knowing it.
In 2001 Microsoft's Jordan Weisman and Elan Lee created a series of computer games based on AI: Artificial Intelligence. From this they came up with a murder mystery across many mediums, telephone/email/fax/adverts. It was an incredible success and globally involved over three million players. There have been other ARG's for TV shows such as Heroes, Spooks, Dexter and Lost.
If you are looking for a commercial Alternate Reality Game – then make the call – it will get people talking www.treasurehuntdesign.com.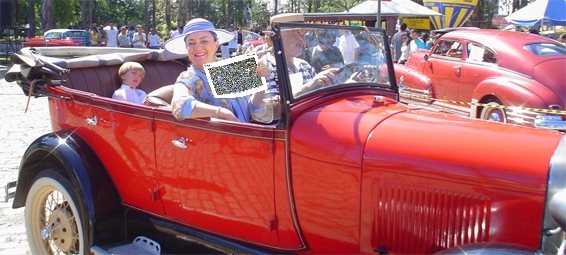 October 11, 2010 | Posted in Event Tips, General News, Information, Press | By Treasure Hunt
Bring back the Sunday Afternoon Car Treasure Hunts!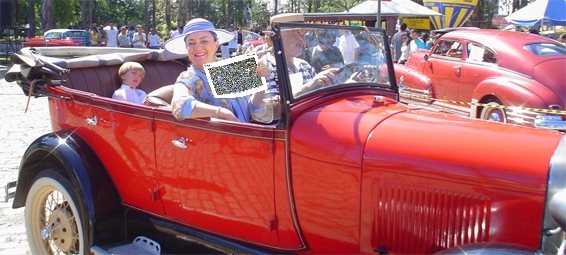 Do you remember frequently seeing streams of classic cars zigzagging along country lanes?
It isn't hard to set the clues for one.
1. Get a map of the area.
2. Select ten locations which participants may find of interest so they enjoy the day.
3. Come up with a ten letter answer – anything you like, perhaps relevant to the event.
4. Drive around each of the locations and come up with an answer that includes a letter from the final answer.
5. Whilst at each site, come up with a question to suit that answer – for some ideas take a look at treasure hunt clues.

6. Sketch out a grid of boxes that line up the letters to reveal a final answer. This is helpful to the participants that now know how many letters the answer has.
7. Write out all the clues, map and grid and you are ready to go!
It is time for us to revive this great fun tradition.
If you would like help with your Sunday Afternoon Car Treasure Hunt then get it touch www.treasurehuntdesign.com.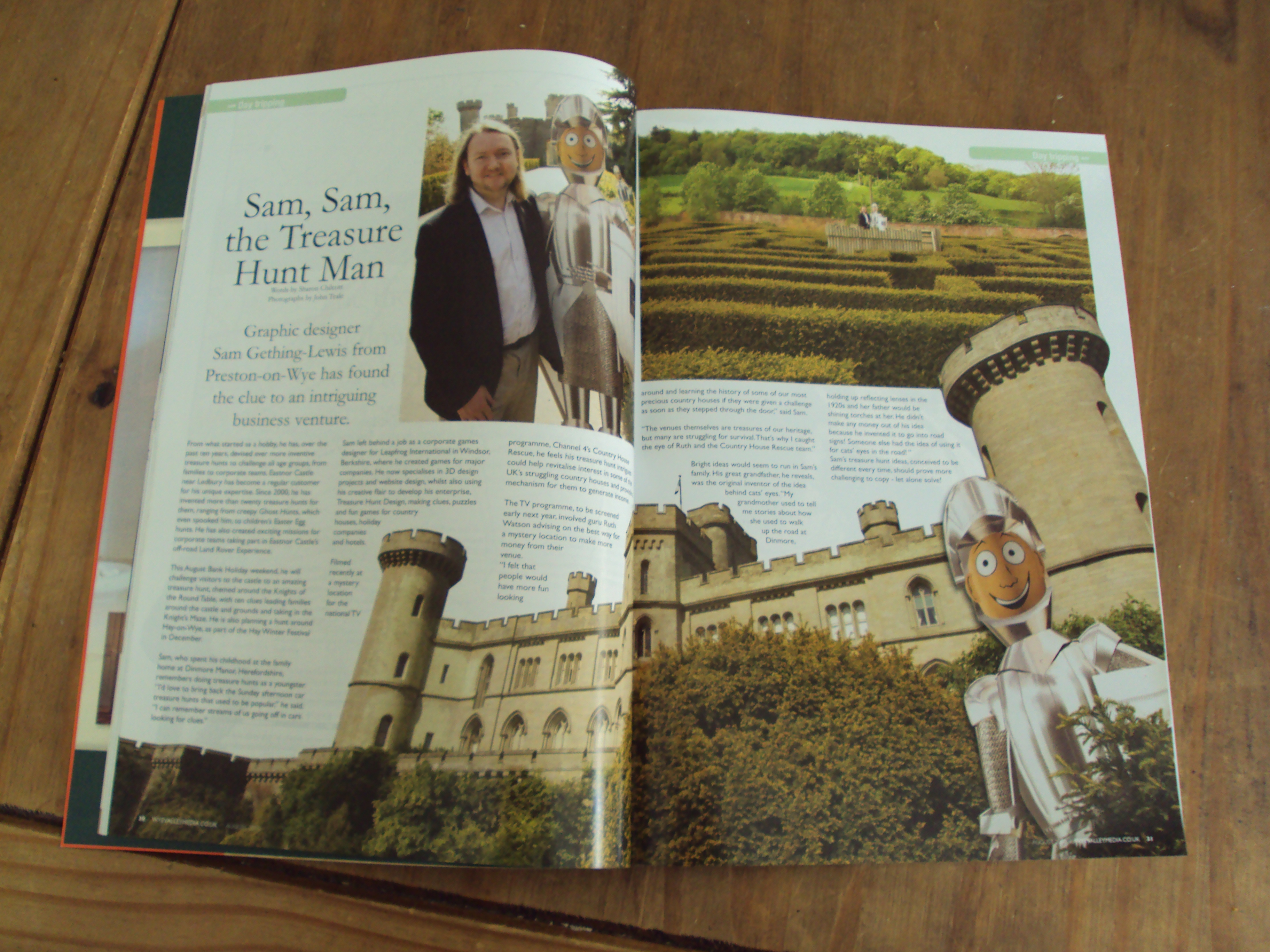 September 20, 2010 | Posted in Event Tips, Events, Information | By Treasure Hunt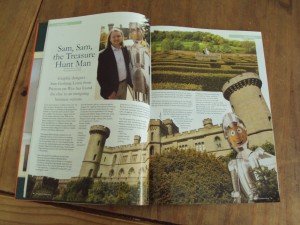 You can heighten the experience of your treasure hunt by tantalising the participants with little tastes of what is to come but without letting them know what they will be doing.
Issue tokens to use on the day for people who manage to solve little puzzles alluding to the event i.e. anagrams to work out where you will be going in exchange for a drinks voucher.
The more mystery there is, the more they will get out of it. Leave loads of gaps for their imaginations to fill in and they will fill them with more wonderful things than you could conjure up in reality.
Start off the day by having a blank envelope with some top secret instructions anonymously passed to you.
If you would like something to get people excited – you could try using www.treasurehuntdesign.com.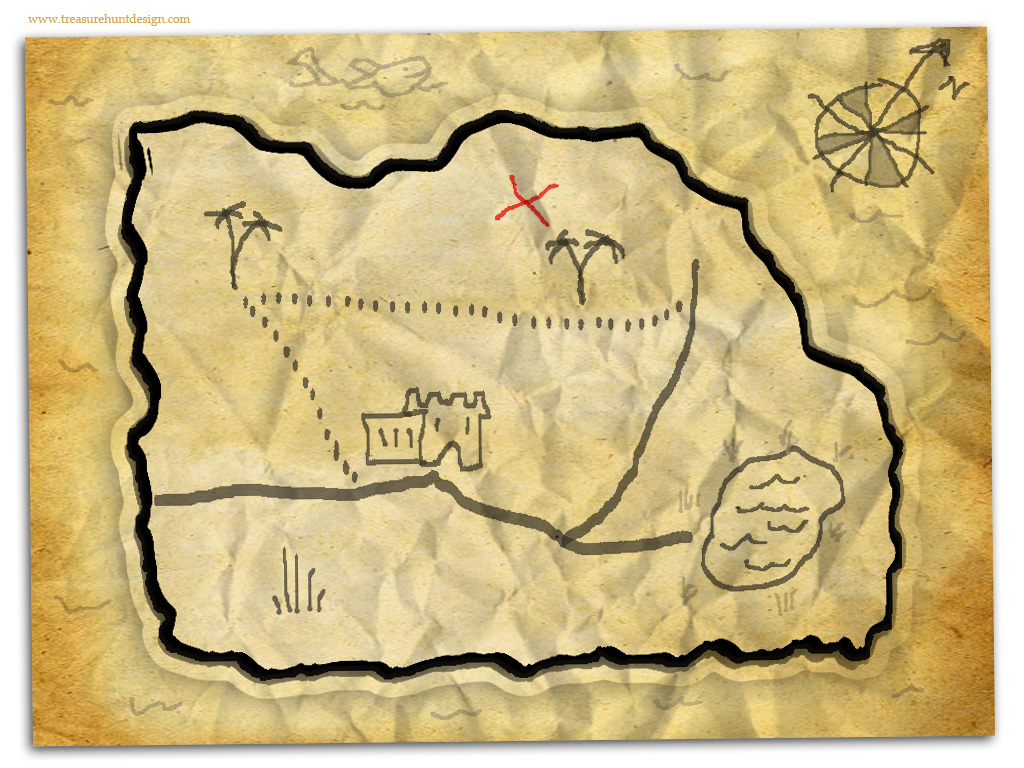 September 13, 2010 | Posted in Event Tips, Information | By Treasure Hunt
Lots of people ask us how to put together a basic treasure map.


If you want to make one yourself, take a look at these step by step photo instructions in this $0.99 book, or try something like this:
1. Blank sheet of paper.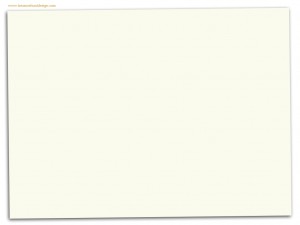 2. Using pencil, draw a shaky outline of the perimeter of your hunt – i.e. the garden, the front room or the village.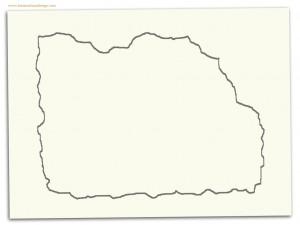 3. Do some shading outside this line then bulk up the main line.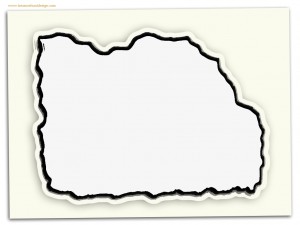 4. Sketch on the key elements in the area as traditional pirate map items, i.e. if it was based in the kitchen – make the kitchen a castle, the sink a pool etc.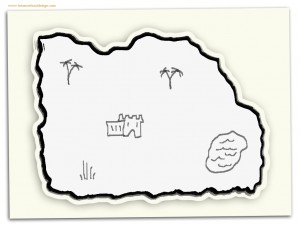 5.  Put some paths on. If none exist then make some up.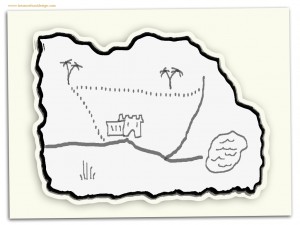 6. Add some feint embellishments such as a compass, sea monster, waves and grass.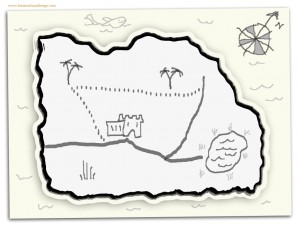 7. Don't forget to add the most important thing: X marks the spot!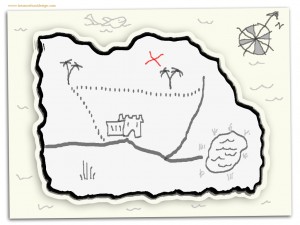 8. Now make yourself a nice cup of tea, and while you are at it – rub your paper down with the tea bag. Let it dry, have another cup of tea and make the edges darker than the centre.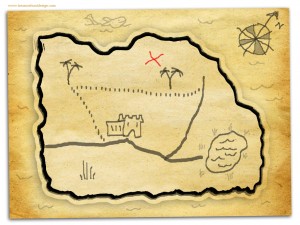 9. Let the paper dry again and then scrunch it up into a ball and then flatten it out to the best of your ability.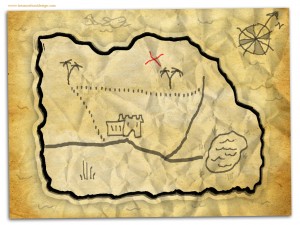 You now have a real treasure map!


If you found this useful please RECOMMEND US on Facebook – it just makes us feel popular and warm and fuzzy. Oh, and there are weekly puzzles to get your brains ticking over…
If you are looking for professionally made treasure maps then look no further.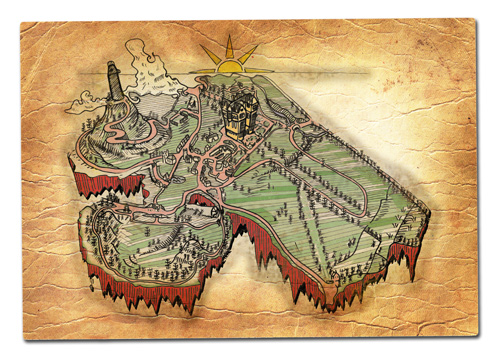 Get in touch with us. www.treasurehuntdesign.com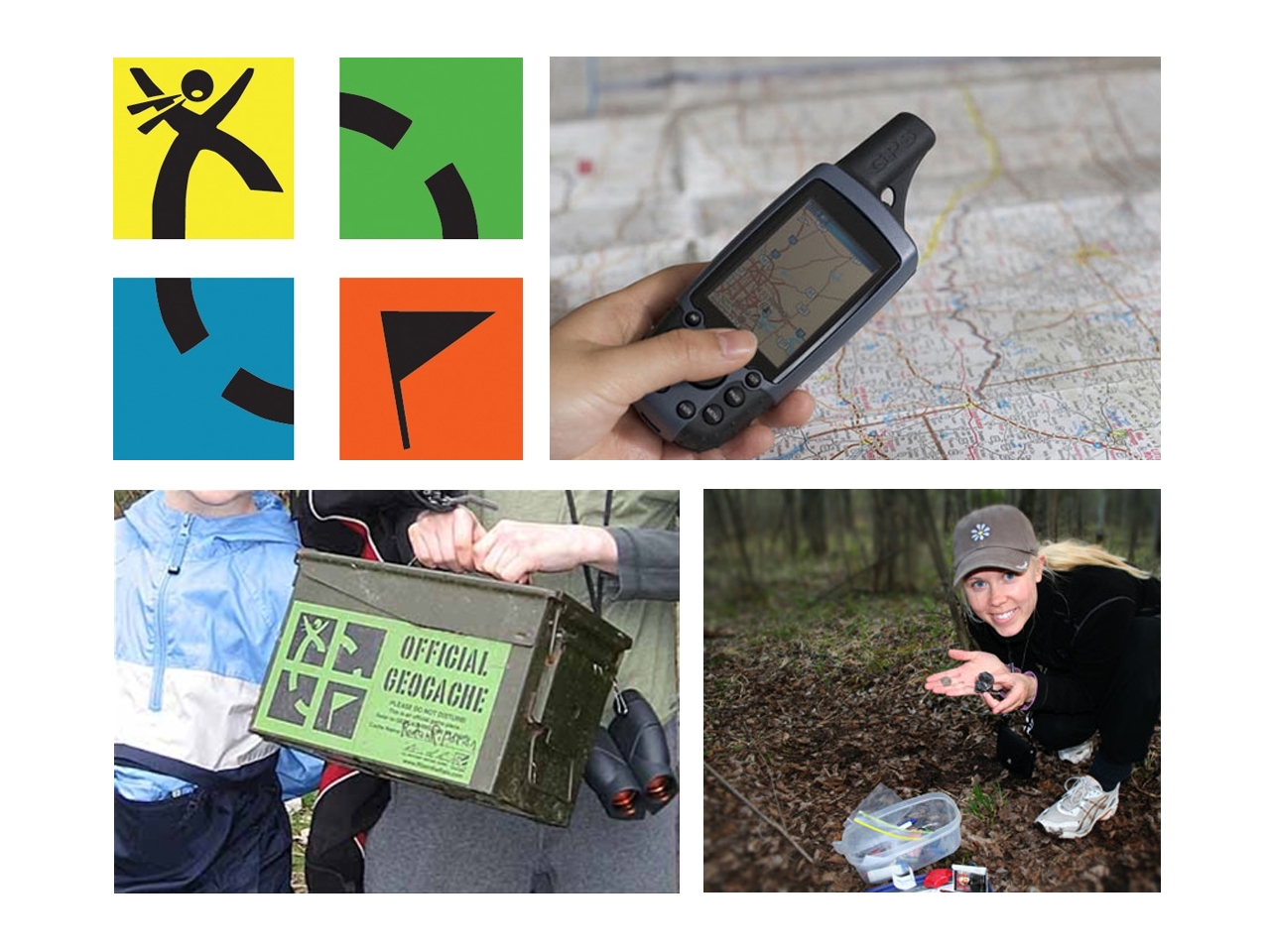 September 6, 2010 | Posted in Research | By Treasure Hunt
As technology continues to improve at an exponential rate, tech to take part in treasure hunt activities using gadgets and gizmos is becoming more and more accessible.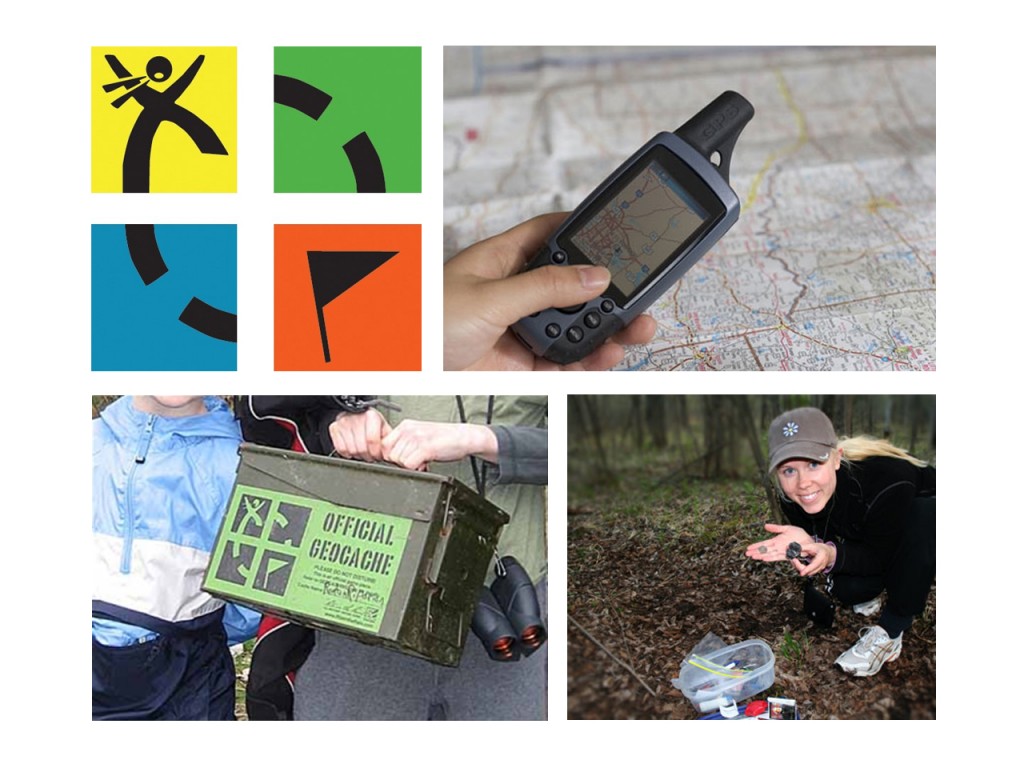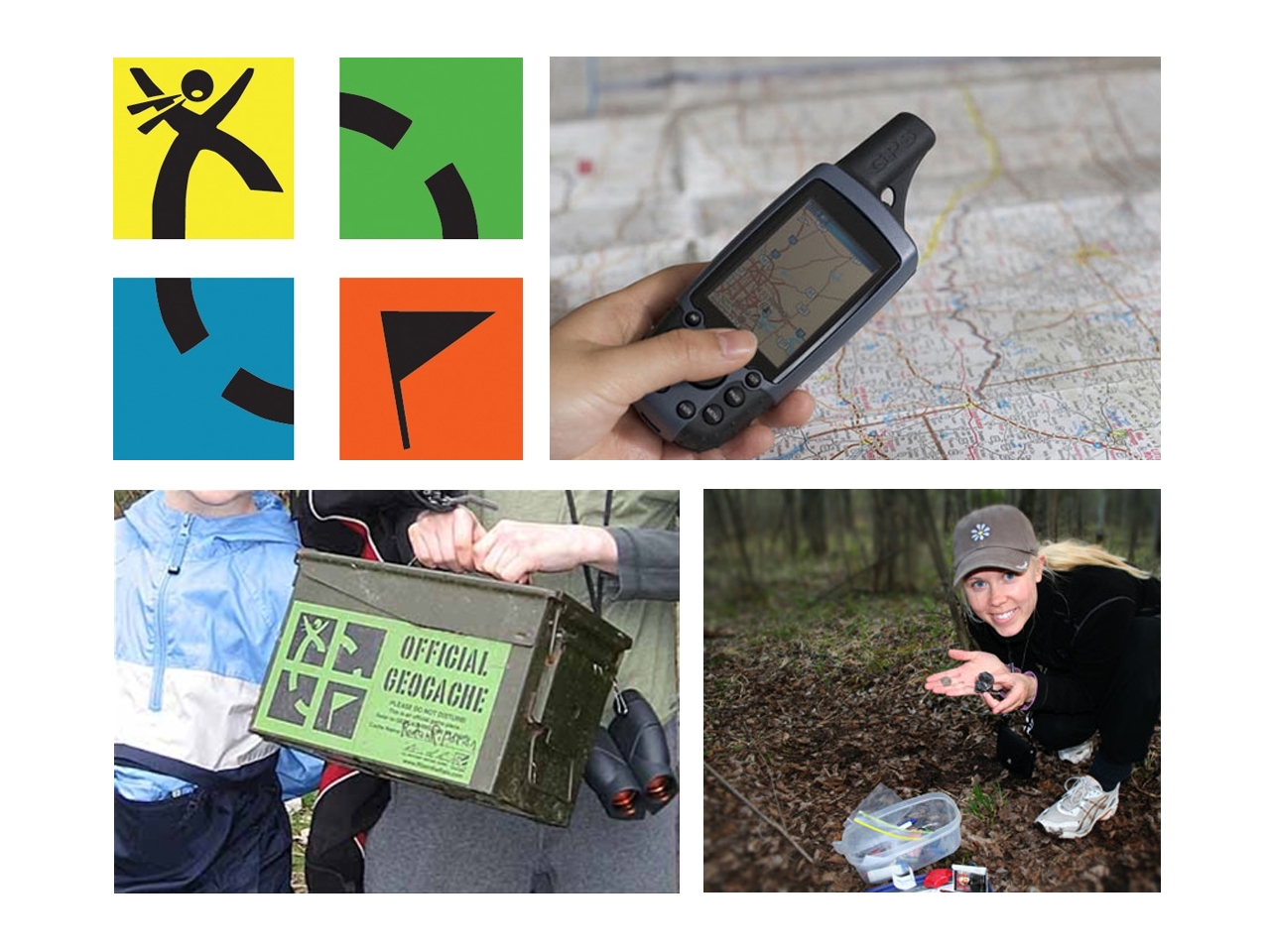 Around the world there is a hidden network of over a million boxes with treasure concealed within. They can be found using GPS enabled equipment – the idea being that you exchange what is in the box with something of equal or higher value. If you've got an iPhone or an Android with GPS capabilities – search the app store for geocache and see what treasures you can find. They are EVERYWHERE!
At Treasure Hunt Design, we encourage any treasure hunt based activity. If you would like something bespoke we can create apps for any platform – all you've got to do is find us…  www.treasurehuntdesign.com

August 31, 2010 | Posted in General News, Information, Research | By Treasure Hunt
The Lego brand have invested heavily in the mechanism of treasure and treasure hunts to capture the imaginations of their customers. Using a wide variety of themes, Indiana Jones, Greek Mythology, Pirates, Pirates of the Caribbean, Treasure Island they host a huge variety of models.

They have recently started to develop simple customisable board games along the same lines where you build the game and then play it, for example in the Lego Minotaurus game your aim is to find the temple, evading the Minotaur and making your opponent's life difficult.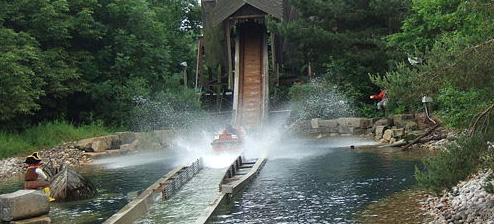 In their theme park in Windsor they have converted the Wild Woods section into the Pirates Landing – where you can pan for gold and ride the treasure themed log flume.
Huge brands fly the flag for treasure hunting – if you want to too – then you know what to do… www.treasurehuntdesign.com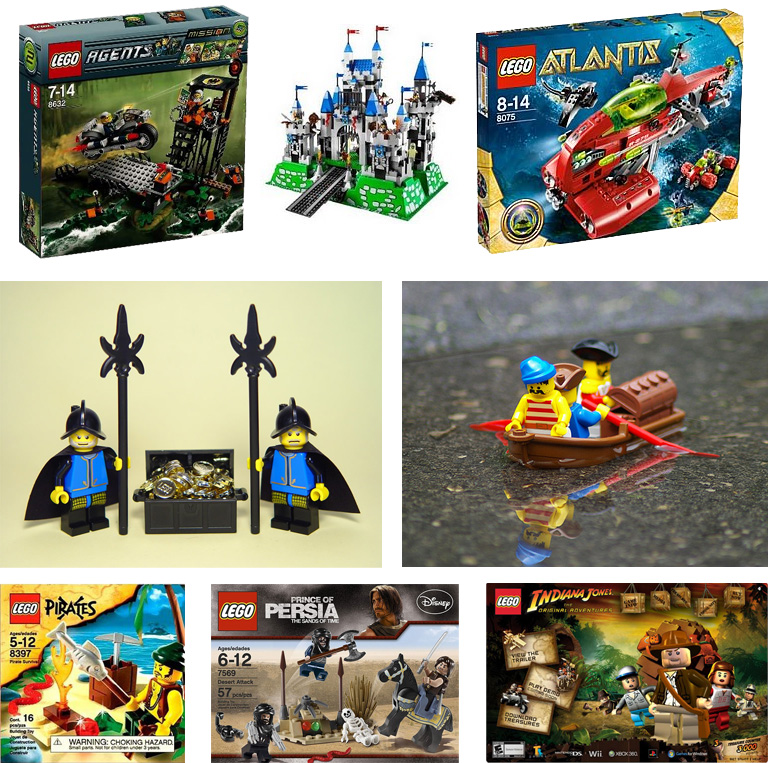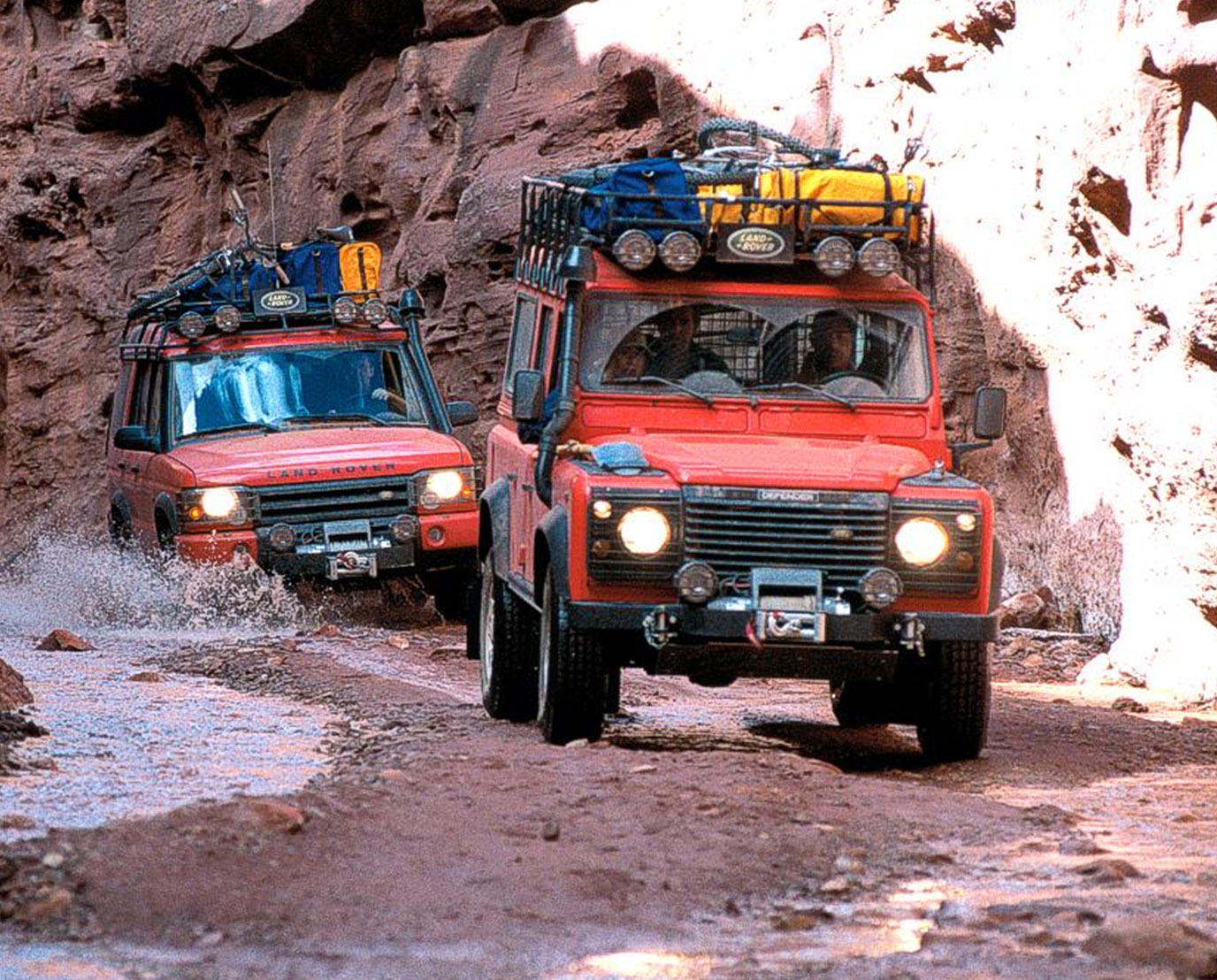 August 16, 2010 | Posted in General News, Information, Research | By Treasure Hunt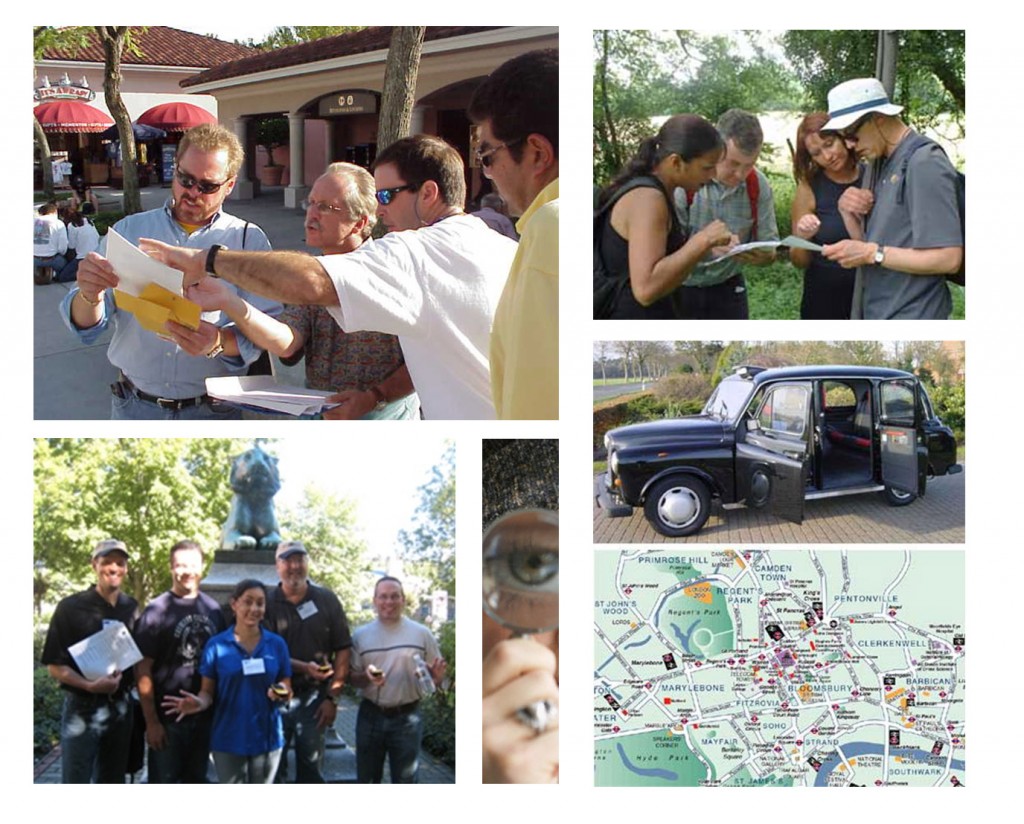 It would be easy to think that children dominate the world of treasure hunting but they don't by any means. Team building companies commercially use treasure hunts as a very popular core service for adults. Take a look on any team building company's website and you'll see that most of their services are built around the series of challenges and puzzles leading to a final gratifying solution formula – the same as a treasure hunt. After you've taken a look at their website and deciding that it is what you would like to do, then we would of course recommend using a company that is dedicated to making treasure hunts for a living, giving you the ultimate experience. The purpose of writing these blogs is to present you with all the information you need about the subject matter of treasure hunts. Not to suggest that you go to one specific supplier. Like Treasure Hunt Design for example. Have a good look around, compare and contrast and go to the one you choose. Like Treasure Hunt Design for example.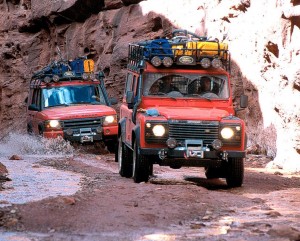 Commercially, Land Rover do an international scale treasure hunt survival adventure called the G4 Challenge where teams race around the world competing in a variety of gruelling environments to be the best in their orange-mobiles. In the current financial climate the adventure has been put on hold – keep your eye out for the relaunch when things pick up.
If you are looking for a commercial treasure hunt, or fancy getting involved with a team building treasure hunt then we suggest you call Treasure Hunt Design today.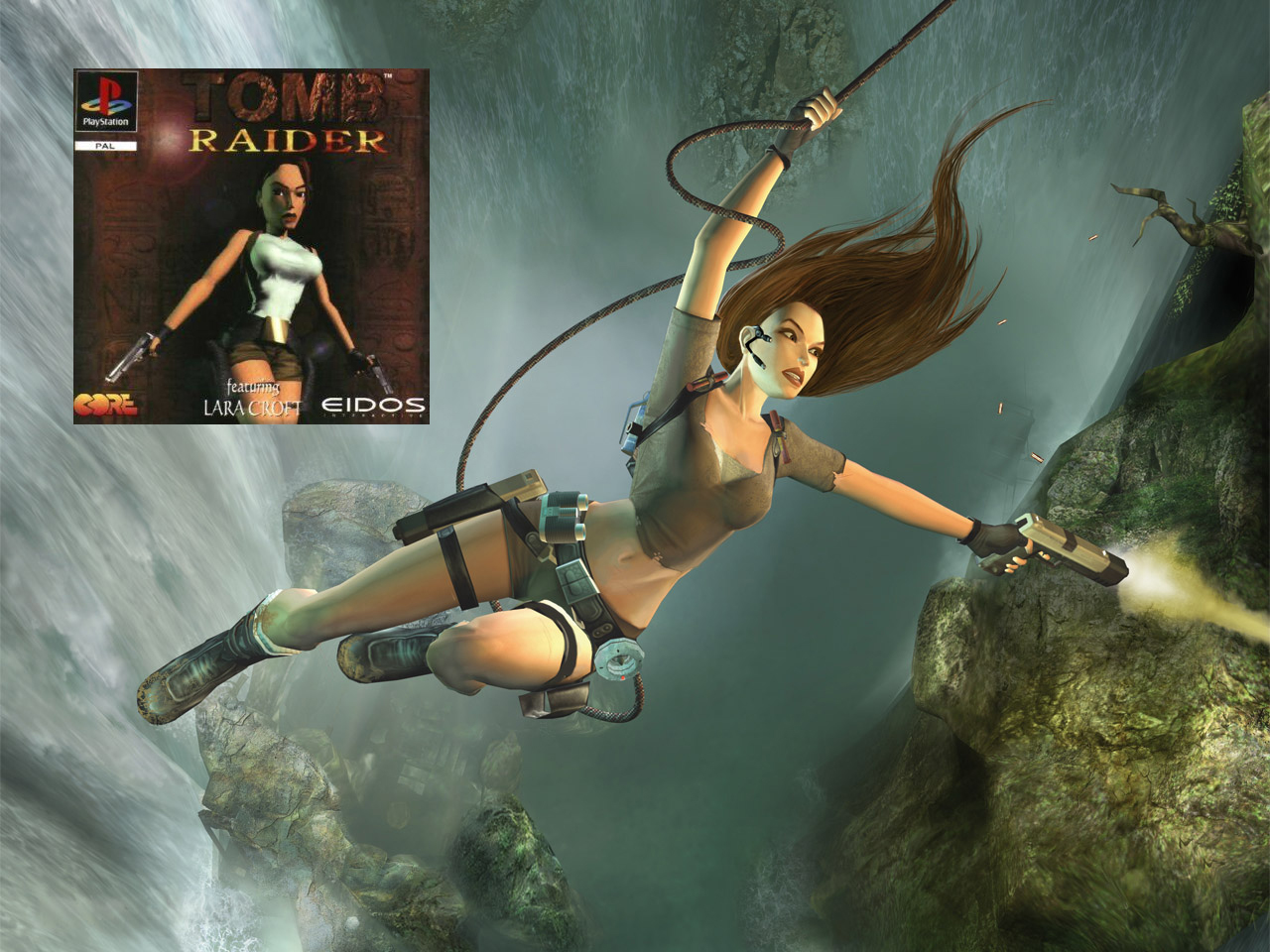 August 10, 2010 | Posted in Research | By Treasure Hunt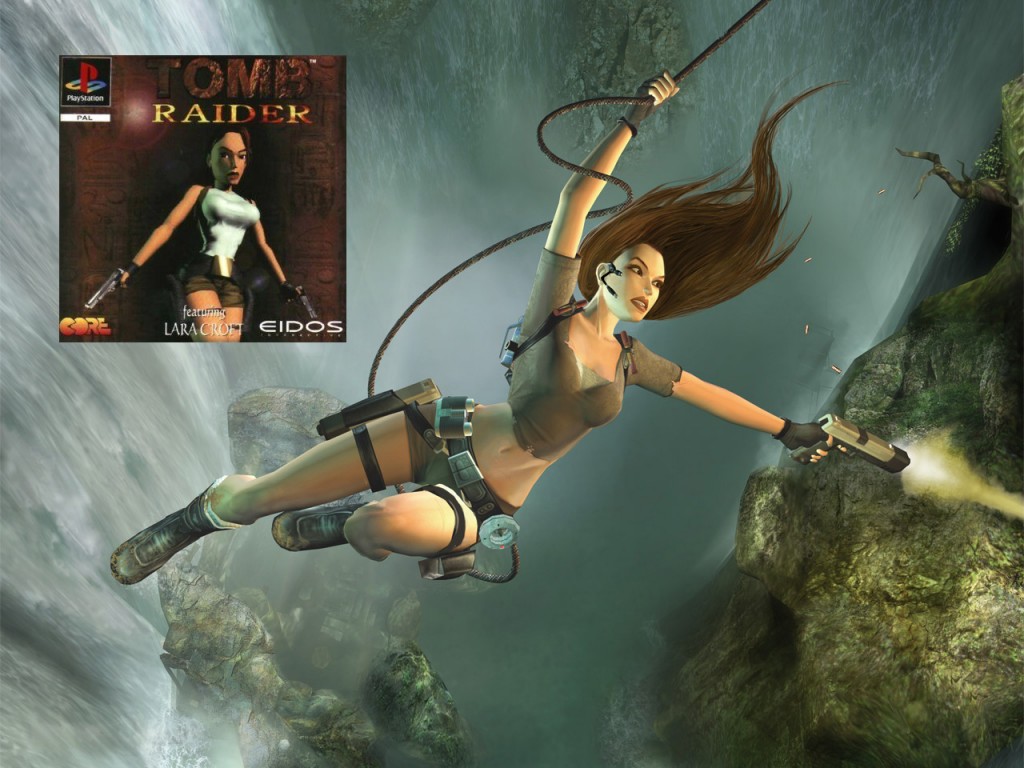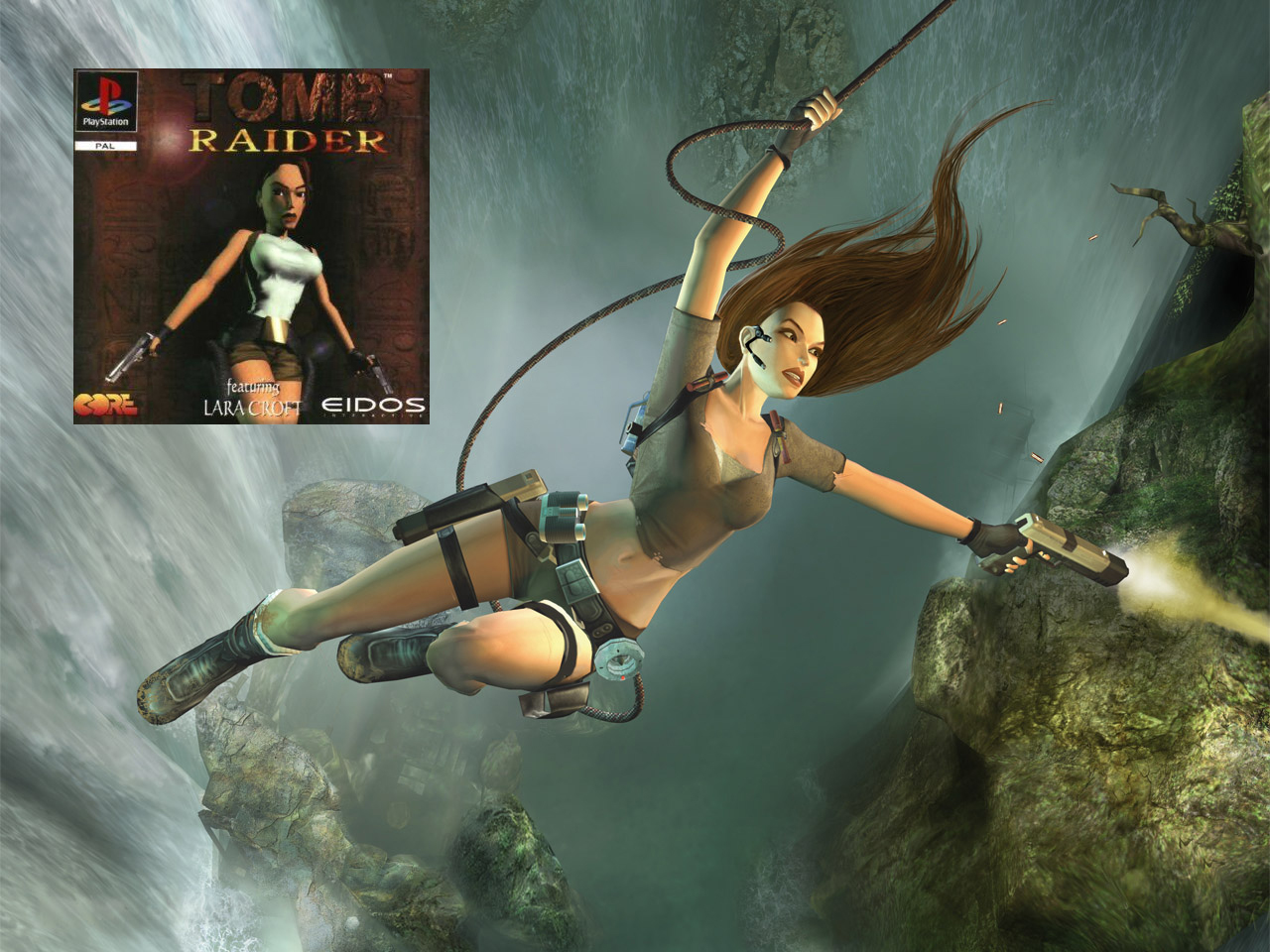 If you failed to notice the phenomenon that is Tomb Raider, then these words are wasted on you. The treasure hunt themed Tomb Raider was a computer game so popular, that generated it's own movie franchise. Lara Croft is the Guinness Book Of World Records official Most Successful Human Videogame Heroine. Ian Livingstone from Choose Your Own Adventure books fame is the President of Eidos.
If you apply the reasoning that treasure hunting is now an activity that instead of digging up gold, involves solving a series of puzzles in order to achieve a goal then that introduces a realm of computer games.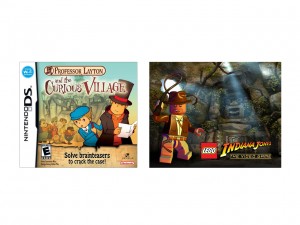 Professor Layton has a large series of mind-straining challenges on the Nintendo DS which conform to the "armchair treasure hunt" formula. Similarly, Indiana Jones has now been converted to a huge variety of formats including Lego.
Here's a thought – why don't you have a treasure hunt based on a video game… we know just the people www.treasurehuntdesign.com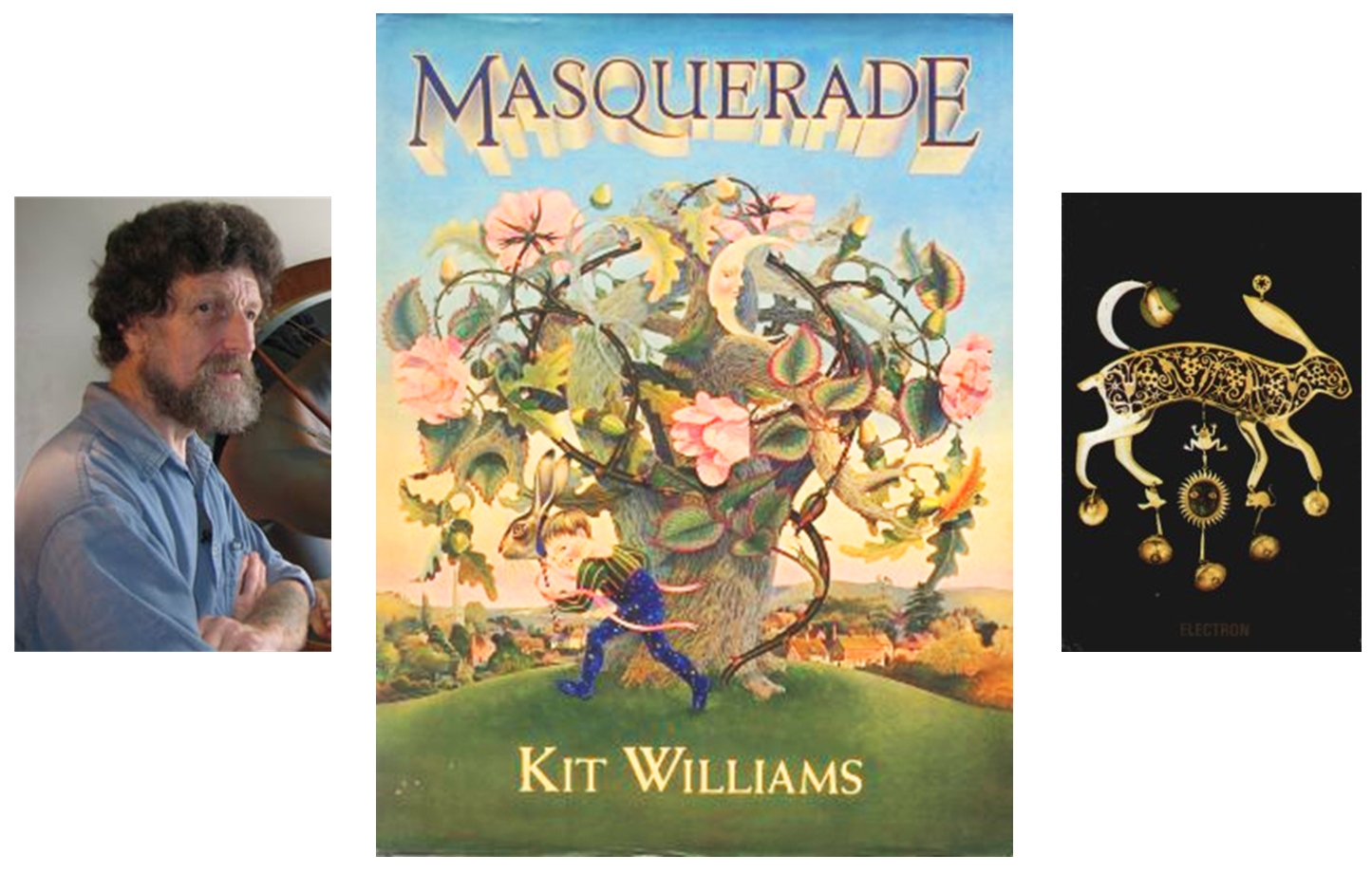 August 4, 2010 | Posted in Research | By Treasure Hunt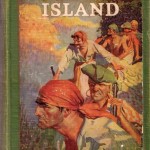 The earliest appearance of treasure hunting is in Robert Louis Stevenson's  Treasure Island. Published in 1883, it was the first time that the concept of treasure maps, hidden pirate's gold and x marks the spot appeared in the public domain.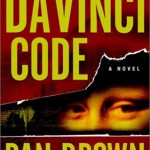 More recently, Dan Brown has been assaulting our senses with his Da Vinci Code series. They are all based on ancient unsolved or undiscovered puzzles permanently installed in the landscape and architecture.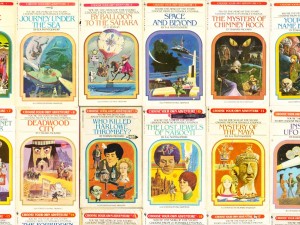 In the late 1970's and early '80's before the takeover of computers, there were a huge variety of Choose Your Own Adventure books. These series of puzzles allowed you to choose your own path through the books and to a satisfactory conclusion (treasure).  Key components of this were Steve Jackson and Ian Livingstone. Both of whom crop again in gaming circles, both board and computer based, significantly with Tomb Raider.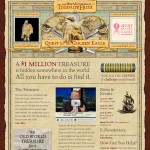 If you search online, there are quite a few treasure hunts floating about in print. The "World's Greatest Treasure Hunt" is a bit better than most as it is built on twelve separate factual stories of treasure hunting history. The prize is one of the emeralds from Mel Fisher's Atocha mounted in a Golden Eagle. All you have to do is answer some trivia questions. This particular hunt purports to be all for charity but has not featured too highly in the media recently since it was launched earlier in 2010.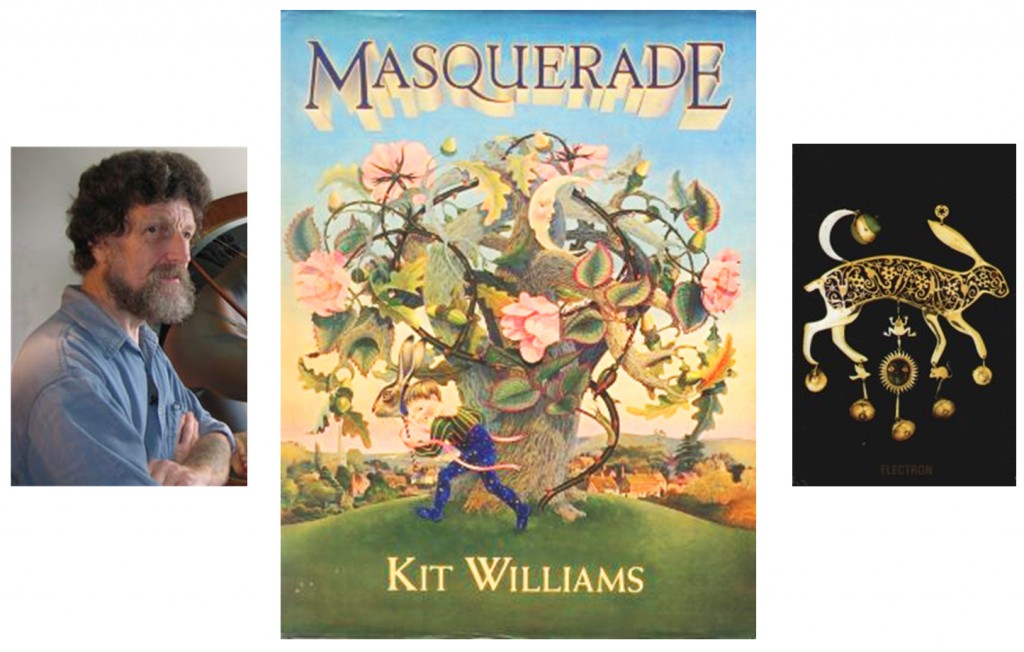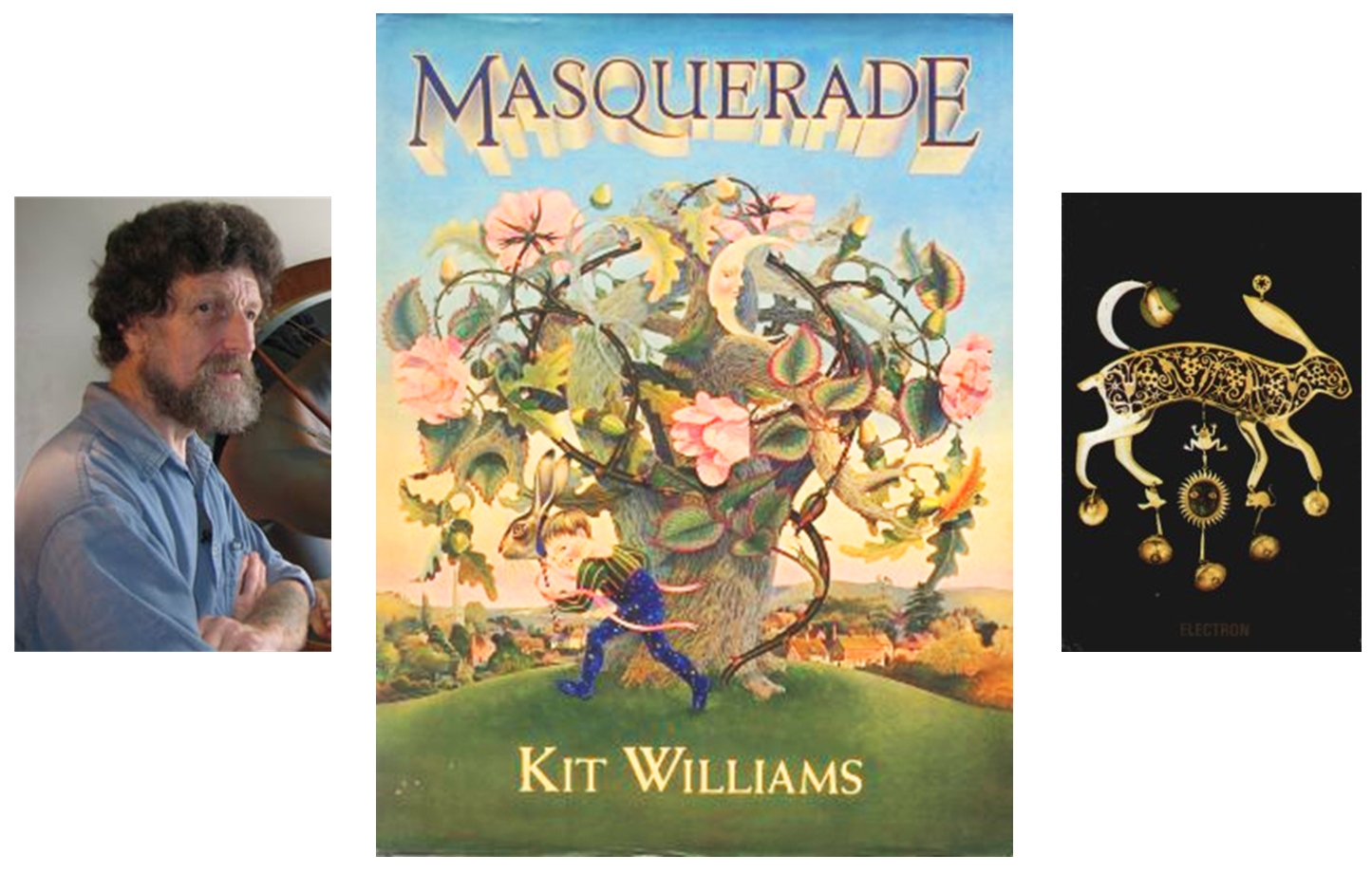 The book of all treasure hunting books is this, Masquerade by Kit Williams. He sold hundreds of thousands of copies of the book when it was launched in 1979. It was a legendary success. Williams buried a golden hare that he made in a metal-detector proof ceramic cast. In the book is a rhyme which tells you how to solve the riddle. The rest of the text is all just misleading. Connect the right eye to the right pointing digit on all creatures, reveals letters on each page – stringing them together gives the location. The prize was located by Ken Thomas in 1982. Legend has it, that at the same time two teachers worked it out, dug it out without realising it for Thomas to recover from their discarded soil. Thomas then went bankrupt trying to profit from the hare and it was auctioned off. It later turned out that an old housemate of Williams' was married to Thomas' business partner, and that Thomas had sent in a copy of a map that he had already known about – and was announced the winner. We mustn't feel sorry for Kit as he was so relieved to be out of the limelight and not to have to open all of his post or answer the telephone any more. Previously he received 100's of letters a day had to read every one just in case they had answered it.
If you would like to "book" a treasure hunt – get in touch www.treasurehuntdesign.com